Certified
Microsoft has given proMX its seal of approval, awarding these apps the highest possible accreditation after evaluating such factors as quality, compatibility and implementation.
Specific
Tailor Dynamics 365 to meet your organization's demands. proMX solutions offer capabilities that meet particular business and industry needs as well as local market requirements.
Acclaimed
These add-ons are tried and tested. Numerous companies worldwide have been using them successfully for years. Their processes have become better organized and more efficient.
Dynamics 365 apps
All modules of the Dynamics 365 suite have been designed to be extended by partner add-ons that provide specific, industry-focused features. proMX's solutions are based on insights gained from working closely with our customers.
A project and resource management app that that can be integrated into your sales solution. proRM Fast Start includes time and expense tracking, approval management, project planning and invoicing features.
The add-on extends Dynamics 365 Project Operations with popular and practical project management features for time tracking, project structuring and more. With proMX 365 Base you can build your individual project management solution.
A solution specially developed for the construction industry that extends the default functionalities of Dynamics 365 PSA and Dynamics 365 Project Operations with industry-specific features and optimizes workflows for construction projects.
proMX 365 Smart Funding supports organizations of all industries with the management and the documentation of fundings. That saves time and effort. Furthermore, the likelihood of committing bureaucratic mistakes decreases and so does the risk of back payments.
An inexpensive and secure alternative to costly additional Dynamics 365 SQL server storage space. proStorageSaver automati-cally moves files like e-mail attach-ments and notes to Azure Blob cloud storage.
An application to create individual, conse-cutive number ranges for various record types in Dynamics 365. proAutoNumber lets you easily and quickly configure custom number ranges and use them via a workflow.
An additional search option for Dynamics 365. proAdvancedSearch combines the benefits of default search options by deliver-ing more specific results than Quick Find and operating faster than Advanced Find.
Project Service Automation and Project Operations apps
Whilst Dynamics 365 Project Service Automation and Project Operations are brilliant, comprehensive applications, you might miss certain features. This is where these add-ons come in. They provide a functionality boost in three crucial areas.
White paper: Dynamics 365 add-ons made by proMX
Are you looking to complement your Dynamics 365 solution and improve your productivity? We'd like to offer you a helping hand – with our products that have been developed based on nearly 20 years of collaborating successfully with Microsoft and our customers. Our latest white paper gives you an in-depth look at advantages, use cases and more.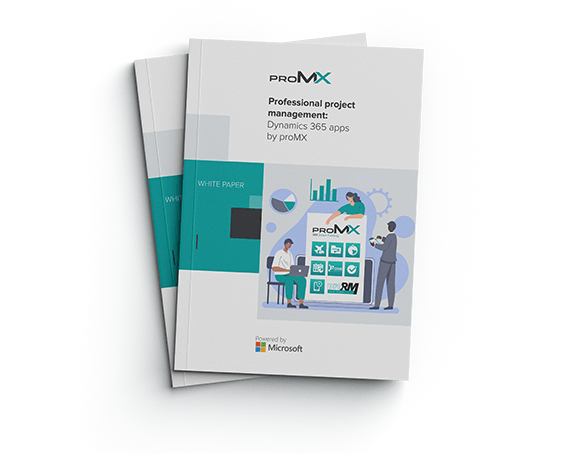 Download started right now
Thank you!

You can download it again by clicking

Download
For Microsoft Dynamics 365 Partners:
Extend your product portfolio with our 'co-sell ready' project management apps!
LEARN MORE