Mar 23, 2022 | Last updated: Jan 11, 2023
Company News
|

4

min read
Kharkiv, the second biggest city in Ukraine, is a partner city of Nuremberg. Just like Nuremberg, we as a company have a close connection to Ukraine, too. For many years Ukrainian colleagues have worked in marketing, software development, sales and other departments at proMX. Some of them live in Nuremberg, others in Ukraine, mostly in and around Kharkiv.
Soon after we first learnt about the horrible news of Russia's attack on Ukraine, the decision that we wanted to help our colleagues and other affected people was a no-brainer.
Personal connection to Kharkiv
Michael Galperin, Jelena Yaruchyk, Oleksandr Pyentsov and Kseniya Verpeta from the proMX team organize and coordinate activities to send direct help to the people in Ukraine, especially in Kharkiv. All three of them have friends, acquaintances and family there who can connect us with volunteers there directly.
proMX and its parent company audius started by collecting money. Within only a few days, 17,000 euros were raised – proMX and audius each provided 5,000 euros. The rest was donated by employees of both companies.
One part of the money was used to buy first aid kits and further medical supplies, which have already been handed over by a proMX employee at the Polish-Ukrainian border to a Ukrainian colleague who took care of distributing it to people in need. More first aid kits will follow soon.
The other part of the donations is transferred to volunteers in Kharkiv who use it to buy medication, food for babies, children and adults, and diapers, and distribute it among people who are currently unable to provide for themselves. Jelena, Michael, Oleksandr and Kseniya are in constant communication with the helpers in Kharkiv.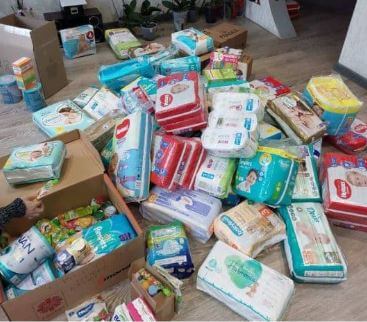 Arrival in Germany
People that had to leave Ukraine and made it to Germany also need our support, especially by providing them with a secure and warm place to stay.
Some of our proMX team members have already opened their homes and let refugees stay with them. If and for how long they'll stay in Germany is unclear right now. That is why places to sleep for a few nights are needed as well as rooms and appartements for longer stays.
Would you like to support Ukraine too?
In case you want to provide a room or an appartement – no matter for how long –, please let us know. We match you with Ukrainians who are looking for a place to stay. If you would like to donate money, you can contact us, too, and we will use it to continue providing humanitarian help.
Please write us an email to the following address if you want to help or have questions: HelpUkraine@promx.net
Feel free to get in touch with us also if you have any other ideas to assist people in Ukraine or refugees in Germany, and we'll brainstorm together how we can realize your idea.
We look forward to your messages and thank you in advance for your support!
Your contacts: