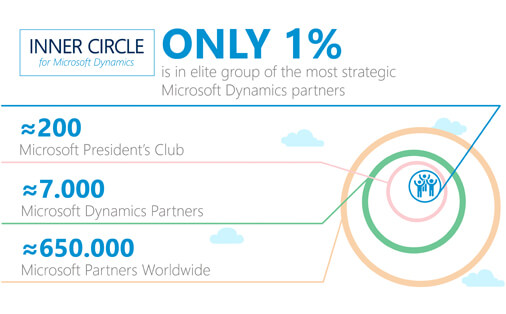 Qualification as a member of the Microsoft Dynamics Inner Circle 2016 – more than just a great honor for proMX
With a 360° perspective of the latest Microsoft solutions proMX supports customers to help them migrate or provision cloud infrastructures and provides cloud-based development capacities and integrated consulting services. Our technological focus is on Microsoft Dynamics CRM, Azure and Office 365.
World class – that's not (only) our own opinion
proMX is a world-class provider of Dynamics CRM solutions and services. That is not our own opinion, but rather what Microsoft, our customers and other Microsoft partners say about us. And that's why proMX was selected to join the Microsoft Dynamics Inner Circle of partners the second time in a row. This is the absolute top, global elite of the Microsoft partner ecosystem. Only 70 out of more than 650,000 Microsoft partners, 7,000 Dynamics CRM partners and about 200 MS Dynamics President Club partners worldwide are selected to become members of this circle. Each year Microsoft acknowledges and honors partners from around the world for their extraordinary overall performance and their dedication to deliver valuable solutions to Microsoft Dynamics customers. proMX' outstanding solutions are key to success.
Honor, recognition and incentive for proMX
For proMX this recognition is a great honor as well as an incentive; it is proof of our professional cooperation and also reflects our customers' trust in our services. As a member of the "Inner Circle" we benefit from sharing experiences within a global network of decision-makers and Microsoft development teams. Our customers benefit from innovative solutions, optimized services and unique added value.
Benefits for our customers
As a Microsoft Gold Competence Partner for customer relationship management and cloud customer relationship proMX GmbH has more than 15 years of consulting and implementation experience with highly complex projects and also provides broad industry-specific know-how and process competencies. As a member of the Dynamics Inner Circle we can directly influence the development of Dynamics CRM, help to develop meaningful value-adding solutions and increase the benefits for our customers.
We are the creative mind
Close exchange with our customers and the constructive dialog with Microsoft about the development and strategic direction enable us to create new applications, business processes and potentials. As a member of the Inner Circle we can engage into executive-level discussions with Microsoft in Redmond to develop ideas which we can implement locally. This makes us the only provider in Germany that is able to combine standardized services with customized project approaches and industry-leading applications for Microsoft Dynamics environments, by bringing together our cloud-based development capacities, integrated consulting services and industry-specific know-how to achieve targeted results for our customers.
We invite all of our customers and prospects to benefit from our competencies and our network. Let's cooperate to turn ideas into reality!