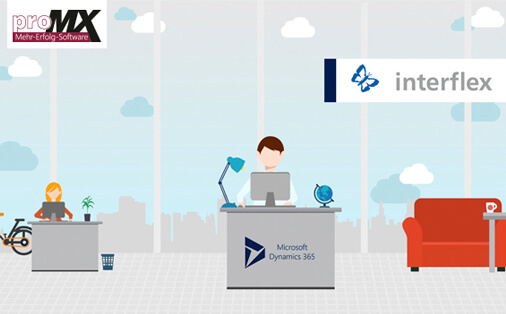 proMX and Interflex make Microsoft History
Jan 13, 2017 | Last updated: Jan 15, 2021
Company News
|

2

min read
proMX is one of the first Microsoft partners worldwide to have won a customer for the newly released Dynamics 365 for Project Service Automation. proMX and Interflex Datensysteme GmbH have thus made Microsoft history.
Interflex develops, produces and distributes combined hardware and software systems for security solutions and workforce management. Its support services range from advising customers in choosing the right solution to system maintenance. The company has a staff of about 500 and maintains offices in five European countries.
Confident about Microsoft and proMX
In its search for a new project management solution, Interflex decided upon proMX as its partner due to our long-term expertise in this area. Thanks to our good relations with Microsoft and our involvement in the development of Dynamics 365 for Project Service Automation, we were able to organize an exclusive confidential presentation of the application in the fall of 2015.
Having long favored Microsoft as a solution provider, Interflex was convinced of the potential of the software, which at the time was still being kept under locks, and decided to become one of its first users.
Interflex will use Dynamics 365 for Project Service Automation to manage its projects, assign the most suitable resources to them, and track working time and project expenses. proRM Add-ons will provide additional functionality.
Wholly integrated process
Interflex, which is part of Allegion group, will also use Dynamics 365 applications Sales, Customer Service, and Field Service as well as Portals and Service Desk and thusly be able to seamlessly manage all its customer interactions from sales through to after sales support in one software.
This solution isn't just for manufacturing companies, though. It is suited for various industries. Take part in our free webinar on Dynamics 365 for Project Service Automation and see for yourself!