White paper: Increase field service efficiency with field service software
May 18, 2022 | Last updated: Jan 11, 2023
With the help of digital transformation many tedious, expensive tasks can be made more efficient and profitable, among others. Field service is a perfect example for the hidden potential in the proper organization of field service. For example, coordinating appointments with customers on-site can be difficult to manage for companies whose business isn't IT-based.
Whether we are talking about plant manufacturing, energy, or IT services: field service software can help you solve the challenges that technical field service poses. As a Microsoft partner, we would like to introduce you to Dynamics 365 Field Service in particular.
---
In our latest white paper you'll learn how to increase efficiency of your field service by utilizing dedicated field service software.
---
What challenges does field service pose?
The right technician in the right place at the right time carrying the right tools – these four Rs are crucial for delivering excellent field service. You'll encounter many challenges on your way, though: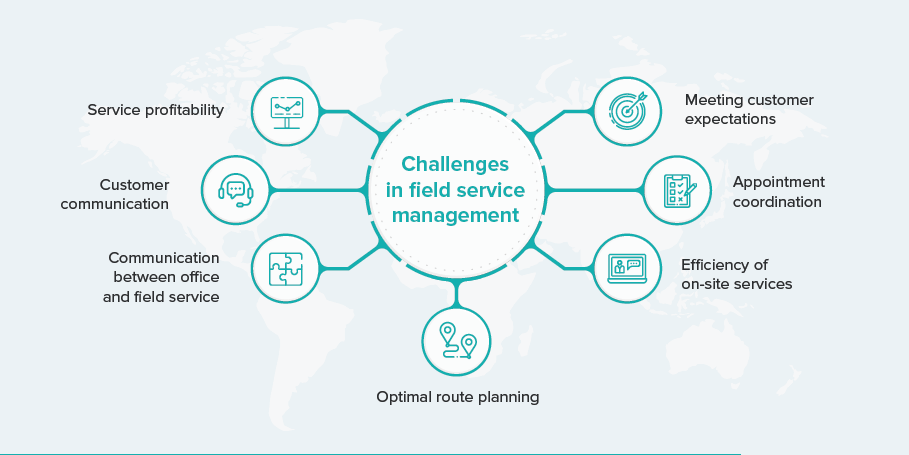 Benefits of field service software
One dedicated software rather than several different and disconnected IT solutions are a crucial step towards making your field service efficient and profitable. In the end companies and customers both will benefit from a smooth customer service experience, which has become increasingly important in many sectors. Why? Because on a globalized market, service will help you stand out from your competition.
Our white paper – your choice
If you would like to know now how to simplify your field service processes, make on-site visits more productive, and increase customer satisfaction, we recommend digging deeper by reading our white paper. You'll learn more about the challenges in field service, how Dynamics 365 Field Service in particular supports dispatchers and technicians perfectly, and will read in an exclusive case study more about how field service software supports one of our customers.
---
Of course we're happy to answer all of your questions in person, too! Simply contact our experts – we're looking forward to hearing from you!