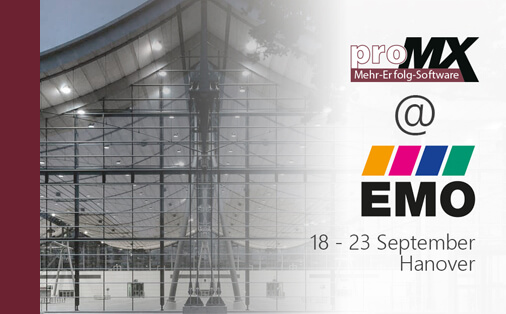 EMO 2017: proMX joins Gehring Technologies at leading metalworking trade fair
Sep 18, 2017 | Last updated: Jan 15, 2021
Company News
|

3

min read
From 18-23 September, we will be joining our customer Gehring Technologies GmbH at EMO 2017, the leading metalworking trade fair which is taking place in Hanover. As the engineering company's digital transformation partner we will answer visitors' questions regarding our joint CRM and IoT projects. We are also available for one-on-one conversations about how you can use Microsoft technologies and our compatible solutions to arm yourself against future challenges to your business and write your very own digital success story.
Engineering pioneer meets Dynamics expert
Gehring Technologies is a leader in the field of honing technology, a high-performance process for the manufacture of final functional surfaces for bores, for example to increase the efficiency of internal combustion engines. Gehring produces and distributes individual system and process solutions and supplies, amongst others, the automotive industry.
Founded in 1926, the company decided to use the potential of Microsoft software for their digital transformation journey, thereby following its employees' wishes, who had already had good experiences with Office 365 and were in favor of a uniform platform into which the services already used would be integrated.
With experienced Microsoft partner proMX by its side for support and advice, Gehring is currently implementing the Microsoft Dynamics applications for sales, marketing and customer service. This means that in these three crucial areas the company will soon possess a uniform and seamless IT solution which is easy to use and which thanks to intelligent tools and optimized processes will lead to higher productivity.
In addition, Gehring decided in favor of proRM Fast Start, a project management app that proMX developed specifically for integration with Dynamics 365. It is an inexpensive alternative to the more comprehensive Dynamics app and offers all important functionality to plan, staff and monitor projects as well as invoicing customers.
Big steps in IoT
Gehring and proMX are also working together on a topic which will become ever more important in the coming years, Internet-of-Things (IoT). At the fair, the engineering company will present its app "Life Tool Diagnostics" which visualizes the wear of tools, predict the remaining amount, and enables benchmarking across several tool sets. To integrate this data, Gehring and proMX jointly developed a prototype to connect the company's equipment to the cloud computing platform of Microsoft Azure via Connected Field Service.
At EMO, you can find proMX at Gehring's booth in Hall 11, booth C38. Let us know you're coming here and we will reserve enough time to thoroughly answer all your questions.