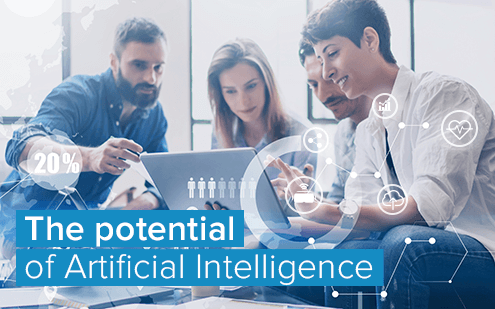 Is Artificial Intelligence on your business's agenda?
Sep 12, 2019 | Last updated: Jan 20, 2021
Company News
|

2

min read
Artificial Intelligence means robots that do not slip on banana peels. AI is science fiction.
Neither of these statements accurately reflects reality. According to a study commissioned by Microsoft among 307 European companies, 72 percent consider AI an important topic. 62 percent of those polled are planning for or are already in the early stages of an AI project, while 27 percent have AI in active use.
Why Artificial Intelligence is so important for business
Artificial Intelligence holds enormous disruptive potential for companies. In other words, AI applications can lead to a competitive edge in various business fields.
The benefits of the technology are as diverse as its uses. Artificial Intelligence can:
simplify work
automate processes
help in decision making
increase productivity
reduce administrative worklead
minimize bureaucracy
improve customer loyalty
quickly processes huge amounts of data
improve value-creation chains
enable employees
This competitive edge has been proven empirically. Fast growing companies use AI more than twice as often as slower growing businesses.
What does AI look like in reality?
Our partner Microsoft has already integrated many of its products and services with Artificial Intelligence. There is Cortana, of course, but also the PowerPoint Designer, the Editor in Word, the pre-organizing of mails in outlook and the detection of threads in e-mails.
Since AI holds such growth potential for businesses in particular, Microsoft has also embedded intelligence into its suite of business apps, Dynamics 365. Plus, it offers additional AI features for these apps.
In fact, Microsoft is so convinced of AI's potential for digital transformation that has invested several billion dollars in its development.
What about you? Is Artificial Intelligence on your business's agenda yet? proMX can help you with your AI project. Contact us with your ideas.