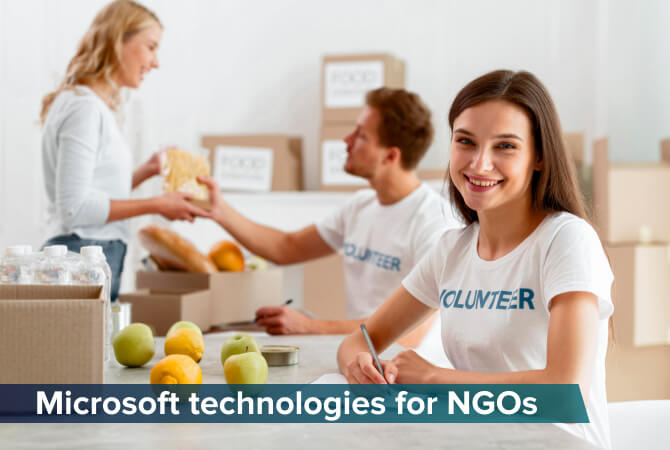 White Paper: Microsoft technologies for Non-Governmental Organizations (NGOs)
Oct 14, 2020 | Last updated: Dec 27, 2022
Non-governmental organizations (NGOs) are not usual suspects when it comes to digital transformation. However, particularly non-profit organizations can benefit from tools that help them achieve more with limited resources.
NGOs are not focused on increasing profits, sales or productivity, but on their mission. Whether it's fighting inequality, eliminating poverty, or protecting the environment. proMX and Microsoft are convinced that innovative technologies can help solve even the most intimidating challenges.
Digitalization of NGOs
In a white paper, proMX has compiled challenges and solutions for the digitalization of NGOs through the example of a nature conservation organization. It addresses the following questions, amongst others:
How to document donations and past processes sustainably?
How to provide target groups with specific donor support?
How to address donors more personalized?
How to manage all tasks with limited resources?
Which software can replace isolated applications?
How to implement an ideal donor journey?
With an industry solution for NGOs developed by proMX based on Microsoft Dynamics 365 fundraising can be managed more quickly, more automated and personalized which reduces pressure on resources. Silos are broken up and administrative effort decreases significantly. Complete documentation enables staff to react quickly to incoming donations.
Benefits at a glance:
Time savings due to automation
Organization's development reflected in IT landscape
Optimized communication between departments
Platform may be expanded
The complete whitepaper is available to download for free. Contact us if you are looking for a partner at your side to help you meet your individual challenges.
---
FAQ
What is proMX's non-profit white paper?
Our white paper describes the positive changes digital transformation can bring to non-profit organizations. It does so with a real case study of a nature conversation organization.
What are the main objectives of NGOs?
NGOs aim to change, for example social, political or environmental situations their members don't agree with. That can entail fighting inequality, poverty or disease, or protecting and preserving nature.
How can NGOs benefit from modern technologies?
Modern technologies like Microsoft Dynamics 365 can help automate and accelerate certain processes so humans can dedicate their time to more important tasks. Technological solutions can also facilitate the management of donations and communication with donors and volunteers.