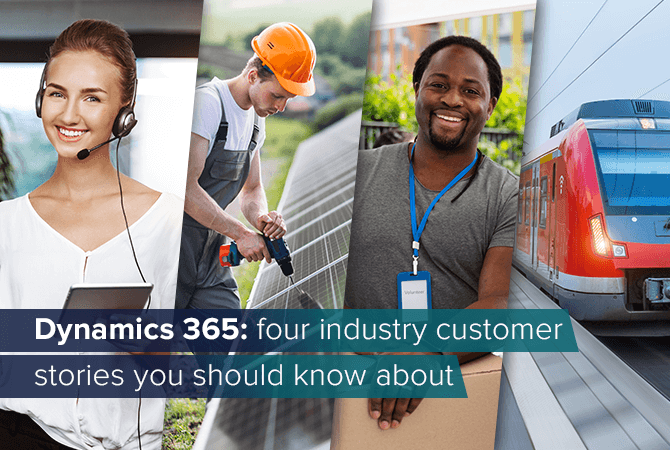 Microsoft Dynamics 365: four industry customer stories you should know about
Feb 28, 2023 | Last updated: Mar 1, 2023
CRM software is more than just sales, service and marketing. In fact, it is used in a wide variety of industries and usually customized for the respective company and its industry requirements. In this article, we'll introduce you to four projects with four varying, individual solutions based on Microsoft Dynamics 365 and our own add-ons that help master the challenges of digital transformation.
You will find more information about all Microsoft technologies and proMX products used in these projects in corresponding white papers, as well as the link to it at the end of each section.
Industry: energy
In the past few years, the energy market has changed radically. Why? The move towards renewable energy sources, new regulations, competition, and significantly higher consumer demands are all factors. However, challenges are also always opportunities for companies, especially traditional ones, to actively shape their future if they are willing to change and by doing so remain competitive.
Such a transformation does not take place exclusively, but also digitally with automated and optimized internal processes, improved project management, and much more. The organization's culture is crucial here, but change depends on its technology, too: How modern is the infrastructure? Is the company already working in a (hybrid) cloud environment?
Learn how we helped a national energy provider by implementing a project management solution and improving its resource management, document management, and collaboration processes:
Microsoft Dynamics 365 for energy companies
Initial situation: Projects in energy companies– such as shutting down a nuclear power plant– are usually complex and require a lot of time, know-how and precise preparation . Project managers will sooner or later run into problems if they try to manage such projects in Microsoft Excel or other software that is not designed for complex project management. For example, a comprehensive project overview that includes resources, durations and other essential details is often missing from this type of software. The proper management of all documents within the project cycle, including plans, contracts or blueprints, is also important.
Solutions:
Dynamics 365 Project Service Automation
Dynamics 365 Sales
SharePoint
The introduction of Dynamics 365 Project Service Automation enables energy companies to plan projects in advance, to predict the respective resource requirements and to always maintain an overview, even in complex efforts. Thanks to the integration of Dynamics 365 with SharePoint, the order structure automatically adapts to the progress of the project and makes it easier for all users to find important documents quickly and easily. Read the full customer story in our white paper: Digital transformation of energy companies: more efficient internal processes
Industry: logistics and transportation
It's not news that we need to change the way we think about mobility: moving away from cars and trucks and toward affordable, climate-friendly(er) public local and long-distance transport for people and goods is something we all must do. The advantages are obvious. Improved infrastructure connects city and country, increases social participation, and relieves the roads of motorized individual traffic in particular. And it's also good for the climate: less noise relieves citizens and the environment and reduces carbon emissions and utilization of land.
To achieve all of this, we need financial resources on the one hand, and ideas and modern technologies on the other for the implementation of such large-scale projects. With the help of digital transformation, resources for innovative projects can be created in the logistics and transportation industry.
11 billion euros from the German federal government's Climate Protection Portfolio cannot be managed easily. With an integrated approach based on Dynamics 365, Deutsche Bahn is now able to optimally manage projects for the rail infrastructure of its transport networks and take a targeted approach to implementing a climate protection package. Read the full story:
Microsoft Dynamics 365 for logistics and transportation companies
Initial situation: Deutsche Bahn has big plans: As part of the time-limited climate protection pact, the company wants to make its transportation networks future-proof and double its passenger numbers by 2030. It faces challenges with implementation, particularly with data consolidation and manual, error-prone processes.
Solutions:
Dynamics 365 Project Operations
Power BI
Azure Maps
Thanks to the new Dynamics 365 Project Operations solution, all project members can now access the data they need for their work in one central location. That makes different Excel spreadsheets or other systems obsolete. It is now much easier to work with data, manage projects, and get an overview of progress.
Read the full customer story with proMX, Deutsche Bahn and Microsoft here: Deutsche Bahn manages Climate Protection Portfolio with Dynamics 365 Project Operations to contribute to transport and climate change
Industry: NGOs
Not even nonprofits are immune to digital transformation. They need innovative technologies to find solutions to their own unique challenges: engaging donors and volunteers, empowering employees with more space for creativity and productivity, and streamlining operations, for example. It's also about connecting new technologies and processes with the people who use them.
In short, it is important for NGOs to take a strategic approach to digital transformation that identifies digitalization gaps and highlights the positive impact on their work.
In our joint project with the Landesbund für Vogelschutz e. V. (LBV), the primary goal was to save valuable time in administration, which is better invested in species and nature conservation. Read how we achieved this with Dynamics 365:
Microsoft Dynamics 365 for NGOs
Initial situation: As the name implies, nonprofits are not allowed to operate for profit. Reserves may only be formed to a limited extent, and tasks must be managed even with scarce resources. This requires data, as well as high data quality. Fortunately, these challenges can be mastered with the help of a CRM system that provides technical support for fundraising, donor care and project management processes.
Solutions:
Dynamics 365 Customer Service
Microsoft Dataverse for Teams
Power BI
The proMX industry solution for nonprofits and NGOs, which was developed based on Microsoft Dynamics 365, combines elements from the Dynamics 365 modules Sales, Customer Service and Marketing. It covers everything from contact management and fundraising to accounting and reporting in one solution. As a result, NGOs save time through automation, optimize communication between different departments, and work with a platform solution that can be continuously customized.
Read the full customer story with proMX, Microsoft and LBV here: LBV modernizes supporter relationship management via Dynamics 365
Industry: professional services
How can service companies keep up with the expectations of their customers? In the context of digital transformation, the answer is as follows: with a modern, digital and transformed IT landscape, which is the key to greater efficiency and productivity, and thus the answer to many of the industry's concerns. Of course, not all challenges can be solved through process optimization and the use of digital technology, but to a large extent they can. The keyword here is: Professional Services Automation.
A management consulting firm in need of modernization switched from its on-premises solutions to cloud-based Dynamics 365 applications and was able to make its business more efficient using the proMX add-ons Time Tracking for Dynamics 365 and Approval Manager for Dynamics 365. How exactly? We'll tell you here:
Microsoft Dynamics 365 for professional services companies
Initial situation: A service company with locations all over the world wants to utilize its full potential and replace its aging CRM system. The goal: All departments should be able to work together smoothly, regardless of location.
Solutions:
The company already uses an on-premises version of Microsoft Dynamics 365. To become even more flexible, it is now switching to the cloud-based solutions Dynamics 365 Sales and Dynamics 365 Project Operations. To further enrich Project Operations in project planning and execution, migration partner proMX additionally integrates its Dynamics 365 add-ons Time Tracking and Approval Manager.
Read the whole customer story in our white paper: Professional Services Automation: how service companies can keep up with customer expectations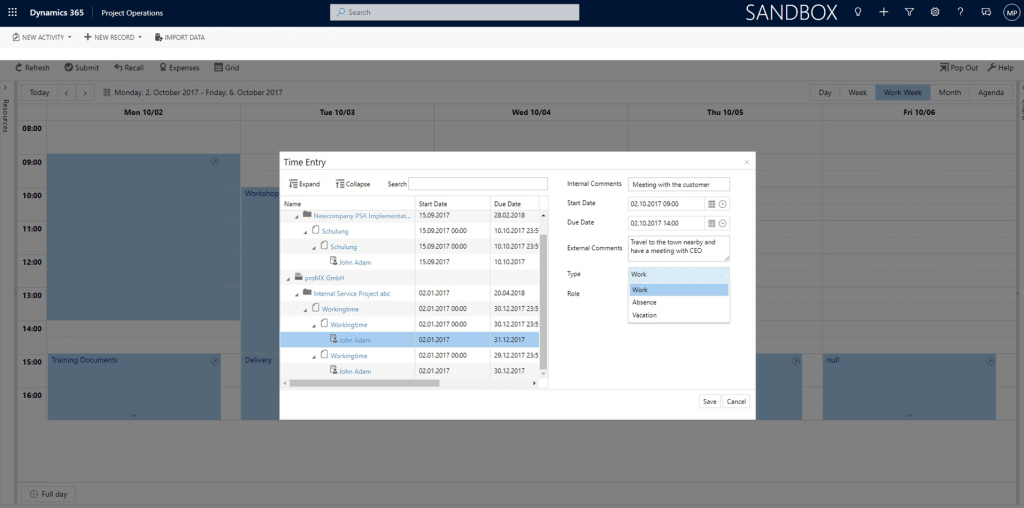 Next steps
We support you in your digital transformation
Bringing a migration partner on board is always a good idea. Whether you're lacking IT experience or you want to get the project done in a quick, efficient and cost effective manner, a partner can help. proMX is not only an expert when it comes to theory and technology, we are also familiar with the industries of our customers and know what an industry-specific Dynamics 365 solution must look like.
---
The potential of Microsoft Dynamics 365 for businesses is huge. With a trusted partner at your side, you will undoubtedly and quickly benefit from the technological possibilities. Contact us!