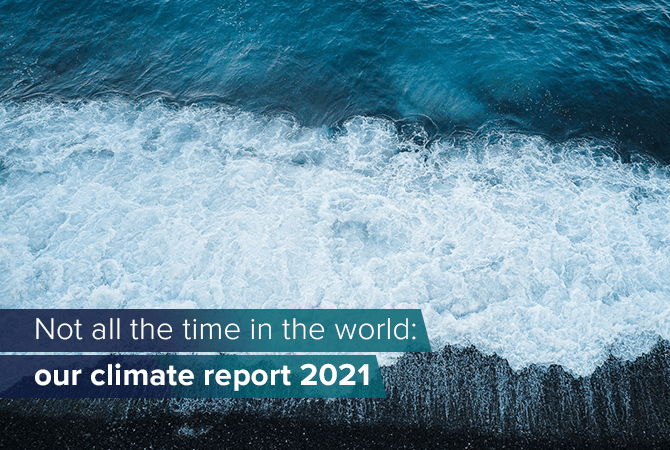 Not all the time in the world: our climate report 2021
Apr 24, 2023 | Last updated: Apr 28, 2023
Company News
|

4

min read
When it comes to climate change, our world doesn't have all the time in the world. Whereas as a medium-sized IT business, we don't have production sites, don't transport goods, and do not maintain a supply chain. However, our work still leaves footprints on our climate and on our environment. Read on to learn more about our sustainability commitments, and about how you can take action, too.
Our climate report
The journey to mitigating our carbon emissions starts with an inventory that will give us an overview of all emissions at proMX, especially the areas with our largest emissions. This helps us define and take measures to reduce them. The software tool of our partner myclimate helped us calculate our carbon footprint for the year 2021 for the first time. This tool, along with many others, is based on the transnational framework Greenhouse Gas Protocol (GHG Protocol), which was developed in collaboration with industry leaders, environmental groups and other organizations at the end of the 1990s.
Glossary
CO2e: CO2 equivalents
Scope 1: Direct emissions from owned or controlled sources (e. g. business trips with company-owned vehicles)
Scope 2: Indirect emissions from using purchased energy (e. g. electricity)
Scope 3: Indirect emissions that arise from producing raw materials, products, or services (e. g. business trips in non company-owned vehicles)
? How can I take action? Find and contact a trusted partner that supports you in measuring the carbon emissions at your company. In order to become climate neutral, you need to first understand where your emissions come from.
Results
In 2021, proMX produced a total number of 166.60 t CO2e. emissions The category business trips comprises the largest part of our climate report at 75 %.
2021 emissions by scope

Find more information in our climate report 2021 (only available in German).


? How can I take action? Assemble a project group that is responsible for analyzing the results of your report, discussing measures that can be taken to offset emissions, and manages internal and external communication. Ideally, you should work with yearly benchmarks.
Actions we have taken
As a nonmanufacturing company, our potential to reduce our emissions is limited. However, we have identified three relevant areas for offsetting our emissions: energy, mobility, and business travel.
Energy: green electricity at our Nuremberg office
Vehicles: usage of hybrid or electric vehicles as company cars
Business trips: fewer domestic flights within Germany
Commuting: job bike leasing
Ecological and social action: With our partner myclimate, we support two certified climate projects: the construction of a mini hydropower plant in Vietnam and providing access to safe water in Uganda. Find more information about other projects that proMX supports for the benefit of society and nature here.
? How can I take action? Energy management, green energy sources, electric cars, bikes, and promoting public transportation are relatively easy first steps towards offsetting your emissions. Emissions that cannot be further reduced can be offset through the purchase of CO₂ certificates for climate projects. Whereas there are projects that truly contribute to protecting our climate, reducing carbon emissions should always come first.
What we will do next
We're at the very beginning of our journey to becoming more conscious of the impact of our work on our climate. Our plans for the future include closely tracking our carbon emissions over the years, and defining more areas where we can take action to reduce our carbon footprint.
How important are climate change and environmental impact at your company? What measures have you been taking and how do you create time and awareness companywide? Share your experiences and reach out to us via our contact form or on LinkedIn. Let's learn from each other and take action together!