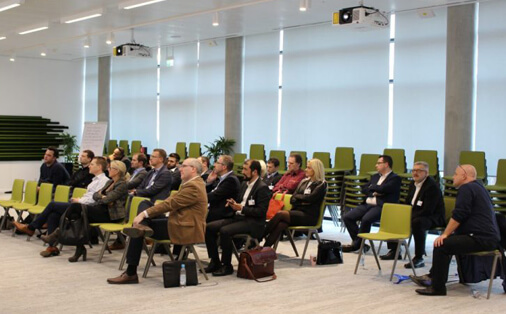 proMX and Microsoft hosted professional services companies
More than 20 entrepreneurs and IT managers participated in the first Professional Services Industry Round Table, co-hosted by proMX and Microsoft. In the course of the day, we discussed the industry's digital challenges, talked about potential solutions in the form of Dynamics 365 apps and compatible solutions developed by proMX, and provided ample networking opportunities.
Keynote speaker Stefan Truthän, CEO of fire protection experts and long-time proMX and Microsoft customer hhpberlin, spoke about the company's use of innovative software and gave the audience helpful advice on how to reevaluate their organizations' processes. "Hesitation regarding innovation will only accumulate more challenges," he emphasized.
An early adopter's story
Interflex Datensysteme GmbH, for one, did not hesitate. With proMX as its partner, the producer of security solutions has already decided in favor of using Dynamics 365 and thus became one of the first users of Dynamics 365 for Project Service Automation worldwide. Interflex's Simon Schwarz and Joanna Rosner recounted the search for the right partner and solution, reported on the current project status and answered the numerous questions posed by participants.
How Dynamics 365 for Project Service Automation and Dynamics 365 for Field Service work and which capabilities they offer was the subject of presentations by Tom Patton (Microsoft EMEA), Özgür Arin and Jona Tennison (both proMX). These detailed introductions to the software prompted many questions by the participants as to how it would be able to respond to their individual requirements.
Have a look at our photo gallery for this event here!
Do you have questions about Dynamics 365? Meet us at one of our forthcoming events! To make an appointment for a one-on-one conversation, click here.