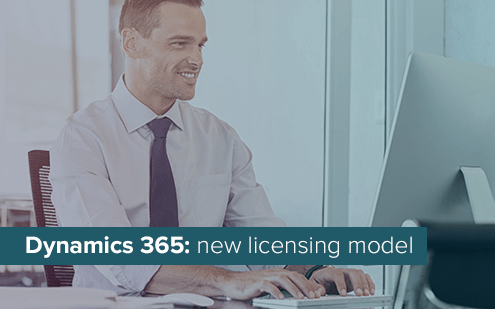 Microsoft Dynamics 365: The new licensing model explained
Nov 6, 2019 | Last updated: Jan 14, 2021
Company News
|

2

min read
With the October release of Microsoft Dynamics 365 several things have changed. There are the cosmetic changes – the 'for' in the name of each app has been eliminated -, functional changes – Finance and Operations has been split into two apps, named Finance, and Supply Chain Management – and there has been a significant overhaul of the licensing model.
What does the new licensing model look like?
The previous Plan based pricing model has been replaced by the so-called Base and Attach model. In concrete terms this means that organizations no longer have to purchase all apps of a plan (Customer Engagement or Unified Operations) at a fixed price. Instead each user must now be assigned a base license for an app and can be assigned attach licenses for additional apps.
Base Licenses
A user has to be assigned a base license for the app that they use primarily. In other words, the app that is supports them in their main tasks, e.g. the Sales app for sales managers. This license is purchased at the standard price.
Base licenses are available for the following apps:
Sales
Customer Service
Field Service
Project Service Automation
Supply Chain Management
Finance
Retail
Talent
Attach Licenses
If a user needs additional apps, these can be added as attach licenses, which are available at a discounted price. However, the base license will always be the higher priced one. There is no limit to the number of attach licenses that can be added and they do not differ in functionality from base licenses.
Attach licenses are not available for Project Service Automation, Marketing and Talent. Logically, they are also not available for Supply Chain Management, Finance and Retail since these apps in any combination will be the higher priced ones.
What does this mean for my existing subscription?
The Base-and-Attach license model went into effect on 1 October, 2019. This does not currently effect organizations that purchased licenses prior to this date. For them the model will be applied 12 months after the original license purchase date.
The current Dynamics 365 Licensing Guide can be downloaded as a PDF file.
If you have questions about the new licensing model, do not hesitate to get in touch with our sales team. Contact them at +49911815230 or sales@proMX.net