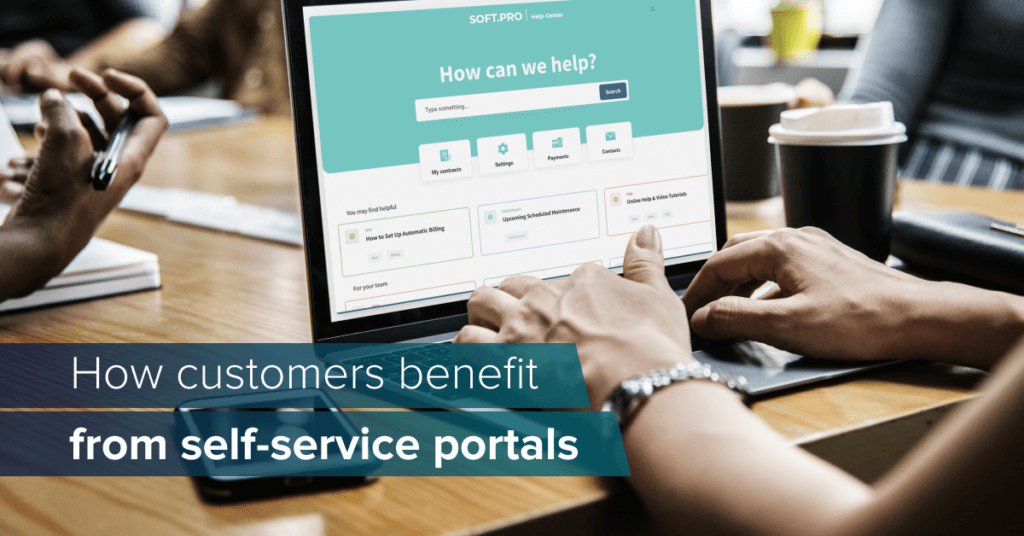 How customers benefit from self-service portals
May 6, 2021 | Last updated: Jan 11, 2023
If a customer decides to get in touch with you, it is rarely a good sign. If they go out of their way to call you, in most cases it is not to praise your products or services.
It is rather the opposite, because either there is something that does not work as intended, they do not understand or they are genuinely annoyed with. You are not off to a great start – and the situation gets worse if they get stuck on hold on your hotline.
Your best chance to save your customer from that kind of experience are self-service portals. They also help you improve your customer service and make your communication more effective and cost-efficient.
What are self-service portals?
In architecture, the grand entrance to a building (or other, similar structures) is called a portal. If we are talking about IT architecture, the terminology fits just as well: Self-service portals are an entrance to specific information via a website – one that ideally looks and feels like the corporate identity of your company.
Portals can be built for different target groups – for example customers, employees or business partners – to make it easier for them to get in touch with you, to update certain personal data or to solve problems by themselves. They work just like a bank machine works: If someone wants to withdraw money, they won't have to wait until the bank is open; customers can simply help themselves and save time they would otherwise spend on getting in touch with you (and vice versa).
Self-service portals for customers
Most self-service portals are targeted at customers. They grant them access to any information to do with the relationship with a company.
It does not end there, though: They are able to edit their personal information and to find answers to questions or problems. A customer portal helps them help themselves and makes contacting customer support no longer mandatory and even redundant.
Self-service portals provide customers with several options:
Edit information
Access a knowledge base or frequently asked questions (FAQs)
Find instructions for solving problems
Join communities
Contact customer support or create a support ticket
Benefits of self-service portals for customers
A self-service portal can be a great opportunity for companies to stand out in the way they communicate with their customers. After all, great customer service sells, today more than ever.
And it saves them costs, too, in more than one way:
They need fewer customer-support employees that are easier and faster to train
Existing employees will finally be able to find the time to focus on more complex problems that customers need help with solving
A smaller support team helps them save costs they can spend on growth instead
Easy and quick communication, being able to edit their data at any time and from any place – that is the kind of independency customers want and what self-service portals offer rather than waiting in phone lines or for e-mail replies.
A positive experience when it comes to solving problems increases the brand loyalty of your customers.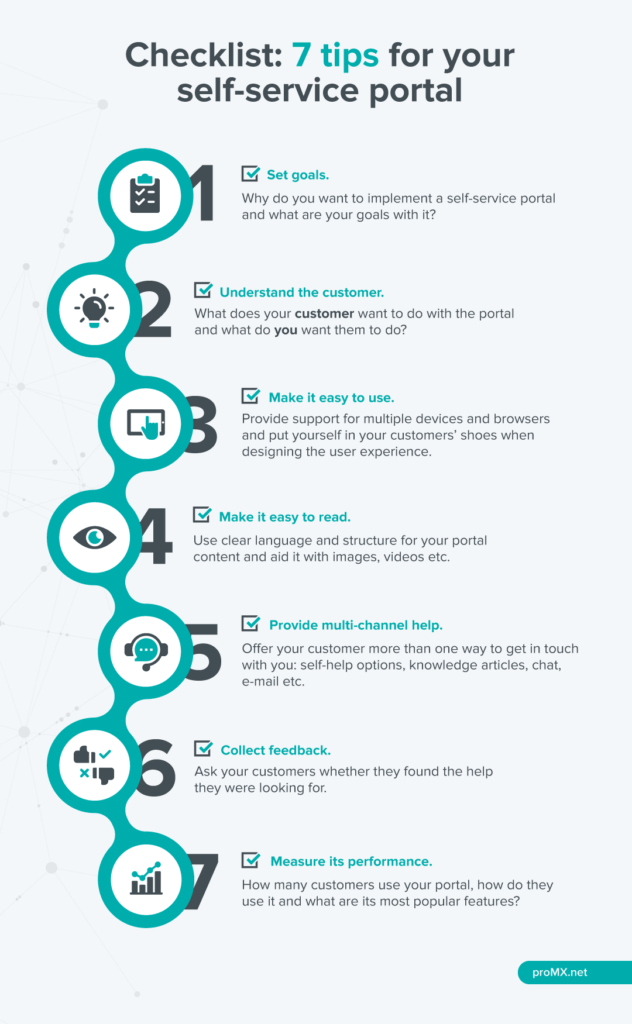 (click to enlarge)
Our recommendation: Microsoft Power Apps portals
As a Microsoft partner, our recommended solution for companies that already benefit from Dynamics 365 are Power Apps portals. They perfectly complement Microsoft's customer engagement apps.
With Power Apps portals, companies can quickly create portals for customers, employees or partners and adjust them to their branding. There are templates for each target group with assorted functionalities.
→ In this article, you'll learn more about the basics of Microsoft Power Apps portals.
Customer self-service portals with Microsoft Power Apps portals
Power Apps portals for customers are made up of three main components:
Knowledge articles: Helpful articles and instructions can reduce service tickets for frequent issues.
Communities: Communities are a way for users to connect with each other as well as with support employees to solve their problems.
Support cases: In case customers don't find what they're looking for, they can request help from your customer support and create a ticket.
Power Apps portals can be extended with third-party solutions to implement a live chat, a call via mouse click or to track their contact history.
Connect to Dynamics 365
One of Power Apps portals biggest advantages is its out-of-the-box integration with Dynamics 365 (a solution formerly known as Dynamics 365 Portals). Data and documents that customers can see and download via the portal (for example bills, contracts, offers) all originate from Dynamics 365. If customers edit their core data, it is automatically updated in their Dynamics 365 organization – without triggering additional steps for your customer support or sales team.
If users don't find answers to their questions and create a support ticket, it is also created in Dynamics 365 and connected to the respective account. That makes the exchange of information more transparent. Both parties save themselves many calls and e-mails.
Thanks to the Microsoft Dataverse, Dynamics 365 works the day it does. It is where all data from Dynamics 365, portals, Power BI and other Microsoft cloud apps is stored.
---
If you are already using Dynamics 365 and have questions about how to implement a customer portal, we will be happy to answer them. Or head over to this article to discover the possibilites of Microsoft's Power Platform.