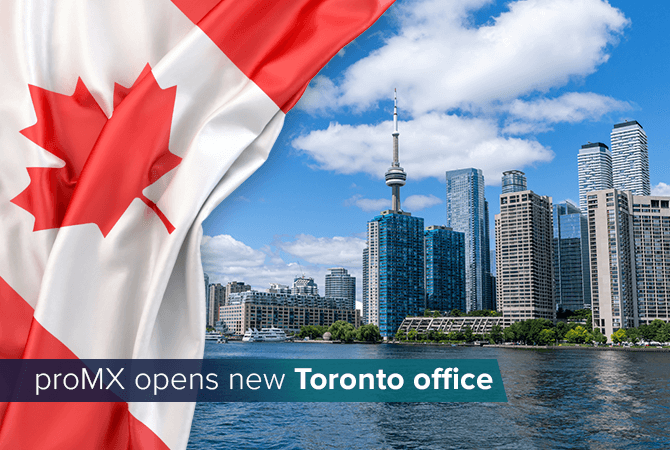 Ready for operations: proMX opens new Toronto office
Jan 30, 2023 | Last updated: Jan 26, 2023
Company News
|

2

min read
Microsoft Solutions Partner proMX continues its growth story in North America and beyond – and what better way to kick it off than by opening a brand-new office in Canada, following a successful expansion to the US, India and the United Kingdom?
Starting 2023 with a new office in Toronto only made sense considering proMX's goals for the North American market: offering more and better support for Canada-based customers, attracting new talent for Microsoft technologies, and sparking a new, strong relationship with Microsoft Canada.
"We are ready to conquer the North American market with excellent Dynamics 365 and Dynamics 365 Project Operations know-how and with exciting products and services for companies in the transport sector, energy sector, and more," says proMX CEO Peter Linke. "We are convinced that our new base in Toronto, Canada's economic hub, will provide us only with the best of opportunities."
proMX has had a close relationship with Microsoft for many years, with the Dynamics 365 Project Operations team in Redmond particularly. The Nuremberg-based company has been a certified and trusted Microsoft Solutions Partner for many years, and been welcomed to Microsoft's Inner Circle for Business Applications for the third time now, most recently in 2022/2023. With a wide range of its own apps and add-ons for Dynamics 365 and Dynamics 365 Project Operations, proMX has strengthened its product strategy significantly and plans to continue developing new industry solutions and the like.
Since 2020, proMX has grown considerably, establishing new offices in the US (Miami), India (Mumbai), and the United Kingdom (Reading). With a team of specialists in Microsoft technologies and other areas the company is well prepared for the challenge ahead.
Learn more about proMX on our website or join our international #proMXTeam!