Made by proMX | May release 2023
May 30, 2023 | Last updated: Jun 1, 2023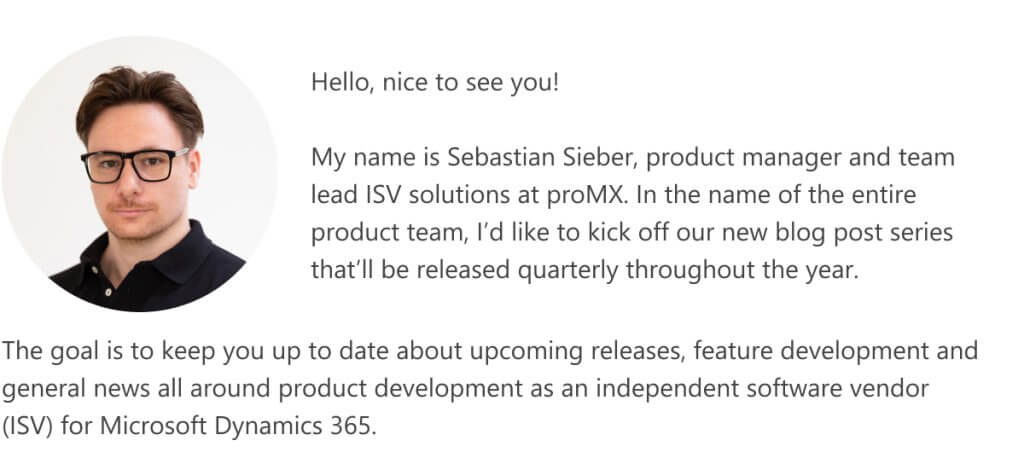 ---
With the available upgrade by Microsoft from Dynamics 365 Project Service Automation (PSA) to Dynamics 365 Project Operations (PO), we will no longer invest in new features for our PSA applications and products. This will help the team focus on Dynamics 365 Project Operations and decrease continuous double efforts on development and testing over the past years.
This means:
Currently available PSA applications and products will be continued in terms of support and fixing of reported issues.
New Features will be developed for Dynamics 365 Project Operations exclusively. Existing PSA applications for Time Tracking and Holiday Management have a direct successor in Dynamics 365 Project Operations.
Approval Manager as well as Project Gantt for PSA will receive a different type of successor over the next months.
New successor for proRM Fast Start
Because of our full commitment to Microsoft Dynamics 365 Project Operations, we will merge proRM Fast Start into a new, yet-to-be-announced solution for Project Operations. Stay tuned for more information soon!
proRM Fast Start as standalone product will receive one last new update with bugfixes and features before preparing for a larger merge and upgrade.
Currently available installations will receive continuous support in terms of fixing reported issues.
Legacy products
Following these announcements for PSA-related products, we are left with a list of applications and products we will continue to support, but have no plans of investing in any longer. These products/applications will be retired as legacy products, and include:
Time Tracking for Dynamics 365 Project Service Automation
Project Gantt for Dynamics 365 Project Service Automation
Approval Manager for Dynamics 365 Project Service Automation
Holiday Management for Dynamics 365 Project Service Automation
proAutoNumber
proStorageSaver
proAdvancedSearch
proRM Fast Start
New in 2023
Retiring products always means more room for new additions and products!
Mobile Time Tracking for Dynamics 365
Our latest release is a mobile and web app for time tracking, and allows end users to connect their Microsoft Outlook appointments and Microsoft ToDos with their time tracking in PSA or Project Operations. Learn more about it here!
A solution for transportation and logistics companies
With the recent publication of our joint customer success story with Microsoft and Deutsche Bahn, we would like to announce our product engagement in the transportation and logistics industry – stay tuned for more news, and meanwhile head over to Microsoft to read the full customer story!
Project portfolio management made by proMX
For the first version for our upcoming solution for Dynamics 365 Project Operations, we focus on project portfolio management capabilities and resource planning/staffing. Additionally, we plan for an overall modern and intuitive user experience through smaller custom controls, for example for risk matrix management, multi option set fields, and date picker.
Product roadmap
In the past months, we have mainly worked on updating our legacy products to the latest approach of our product strategy.
A new PCF (Power Apps component framework) control for Holiday Management, and a new Time Tracking calendar design are included in the current implementation phase with new releases between the end of May and beginning of June.
Our main investments in the future will be in the upgrade and successor for proRM Fast Start in Microsoft Dynamics 365 Project Operations, including successors for Approval Manager and Project Gantt.


Releases
With currently over 200 ready-to-release items and more in our pipeline, we aim for a release window from end of May till beginning of June for all products and applications, including legacy products.
Because of the number of products, we cannot commit to one single date. As some applications will receive their last feature update, we would like to ensure quality and integrity.
The current plan also includes a second and third release window for this year, one in summer and one in fall. After our third release window, the product team is planning to provide regular and smaller updates moving forward.
Detailed release notes will be published on Microsoft AppSource in the next days.
---
Stay tuned for further announcements, and please don't hesitate to contact us in case you have any questions.
Thank you, much appreciated!
Sebastian