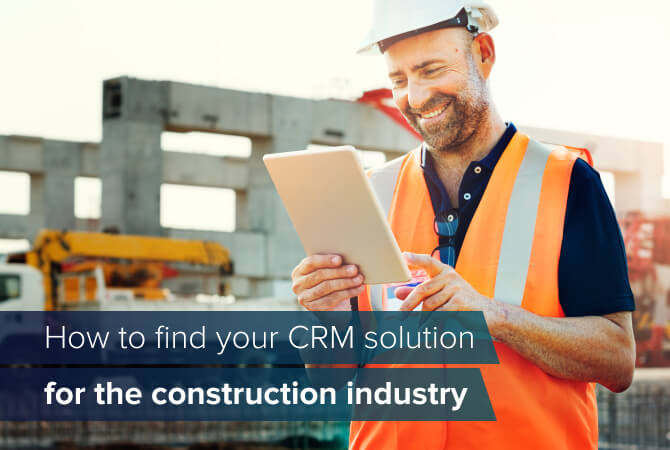 Choosing the best CRM solution: what to consider in the construction industry
Spoiled for choice: It is often difficult to decide between several options. When it comes to the digitalization of the construction industry, the technical options are likewise becoming more and more diverse. In this article, you will learn which aspects of the construction industry can be automated, how best to approach the introduction of specific industry software, and what to consider when selecting a customer relationship management (CRM) solution.
What can be automated and digitalized with a CRM solution in the construction industry?
Below, we provide an overview of the construction industry aspects a CRM software is particularly beneficial for.
Contact management
As there are CRM related processes in almost every industry, the use of a corresponding software for contact management is also relevant in the construction industry. Information such as names, addresses, e-mail addresses, telephone numbers, etc. is stored centrally for each customer and is available to all parties with appropriate access rights.
---
Project management
In the construction industry, it is necessary to coordinate many projects in parallel. This involves distributing resources wisely and ensuring smooth communication. A CRM solution can help here to maintain a complete overview of all project phases and to smartly plan and control the capacity utilization of resources.
---
Reports
Using a CRM system, construction companies can create their reports automatically and send them directly to the customer. With Gantt charts, like those in Microsoft Dynamics 365 Project Operations, they can clearly display the project flow and progress in their report.
---
Mobile availability
A large part of the construction industry's activities happen on the construction site. It is therefore important to make all data available on the move. This allows everyone involved to access all data directly on the go and make changes if necessary.
What will you miss by not having an industry-specific CRM system?
The biggest challenges in the construction industry stem from employees often being spread across multiple locations. With so many workplaces and constantly changing locations, communication and document sharing can be difficult.
Without industry-specific software, it is almost impossible…
to manage multiple projects across different locations;
to centrally maintain workflows, documents, building plans and contact information;
to automate approvals and documentation;
to oversee the progress of multiple projects in parallel.
A CRM system specifically tailored to the construction industry can help overcome the above challenges.
What should you consider before choosing a CRM solution?
The aspects which can be automated and digitalized in the construction industry mentioned above are only intended as an orientation guide. Determining which specific features you need depends on various factors. If you are looking for a CRM system, you should first visualize your workflows you want to automate. This will give you an overview of:
Requirements: What do you want to achieve using a CRM?
Scope: What features do you need?
Resource capacity: Who can take care of CRM maintenance?
Pre-planning: What will you need in the future to remain competitive?
With this information, you will then be able to calculate your budget and thus find a CRM with the scope you need.
What needs to be considered when selecting a CRM system for the construction industry?
Once your budget and requirements are clear, it is time to choose your concrete CRM system. Be sure to focus on industry-specific software tailored to the construction industry. Cross-industry systems have their limits and are not able to meet your individual needs.
For inspiration, let us look at industry-specific Microsoft products below:
When selecting your CRM system, rely on providers with experience in supporting and implementing software projects in your industry. With proMX at your side, you benefit from many years of experience in the construction industry and in-depth expertise when it comes to industry-specific project management solutions.
Unrealistic expectations of a CRM system
Just as you will not get in shape just by signing up for a gym, simply implementing a CRM system will not guarantee success. Many companies assume they can get the CRM system up and running out-of-the-box – and are then disappointed when it does not work that way.
The introduction of a CRM system – whether a complete new implementation or the migration from an old to a new solution – takes a lot of time. The system must first be adapted to the individual needs of your company. Your employees also need to be trained to become familiar with the functions and be able to practice its use. Once this work is done, you will be ready to benefit from your new CRM solution.
Conclusion
Digital solutions such as customer relationship management systems help make construction projects more efficient, sustainable and secure, optimize business processes and improve the customer experience. In construction project management, our proMX 365 for Construction solution is a helpful tool. We will be happy to advise you!