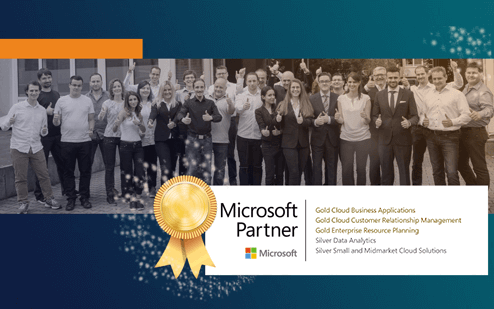 proMX honored as Microsoft Dynamics 365 Premium Partner
May 10, 2019 | Last updated: Dec 21, 2020
Company News
|

2

min read
proMX has been certified the Microsoft competence for Cloud Business Applications in Gold. This is the seventh competence logo Microsoft has awarded us and us evidence for our expertise regarding the administration and implementation of the cloud business solution Microsoft Dynamics 365.
With its so-called competences Microsoft honors those of its partners that can proof exceptional knowhow regarding its software. By achieving a Gold or Silver competence, they can differentiate themselves from their competitors and prove their expertise to prospects and customers. To be rewared one of the 19 competences, Microsoft Partners have to meet certain sales targets for relevant software and pass a number of functional and technical exams.
In the case of the Cloud Business Applications competence this means: sales of at least $300,000 with Dynamics 365 licenses and the certification of 15 employees, passing 35 exams on the business suite's apps.
Almost 50 exams passed
This competence is by far not our first. We have already achieved Gold or Silver status in the following areas:
Cloud Customer Relationship Management (Gold)
Enterprise Resource Planning (Gold)
Data Analytics (Silver)
Small and Midmarket Cloud Solutions (Silver)
Application Development (Silver)
Datacenter (Silver)
For this, our employees in sales, marketing, consulting, software development and support have spent the last four months passing close to 50 exams. With 15 Microsoft Certified Solutions Associates (MCSAs) we thus have one of the best qualified teams among Microsoft Partners in Germany. "This is an incredible accomplishments," says proMX CEO Peter Linke. "This astonishing commitment by our team fills me with pride."