Microsoft Dynamics 365 Project Operations: What makes the new PSA tool unique
Jun 24, 2020 | Last updated: Feb 23, 2023
This week sees the start of the preview program of Microsoft Dynamics 365 Project Operations, allowing the public to evaluate Microsoft's latest Dynamics 365 app before its release in October 2020. At proMX, we are already very familiar with the Professional Services Automation PSA tool since we work very closely with the R&D team in Redmond and have been providing them with feedback throughout the development process. Back in February, some of our PSA specialists were given a private preview at Microsoft HQ, and Gurkan Salk and Rupa Mantravadi, who lead the Project Operations team, previewed the app at our recent online event (at 2 am local time no less!).
5 aspects that set Microsoft Dynamics 365 Project Operations apart
We think Dynamics 365 Project Operations the strongest showing yet of Microsoft's project management portfolio and want to share our insights as to why it is so unique with you.
1. A clear focus on service-based businesses
Dynamics 365 Project Operations was developed specifically for organizations in the ever-evolving services industry. It addresses the most common needs companies in this sector have:
Being able to respond to changing business models in a flexible manner
Greater automation of business processes from lead to billing to analytics
Optimizing workforce utilization and productivity to ensure project success
While services organizations have been quick to adapt to cloud technology, they nevertheless often still have a siloed enterprise architecture with project tools that are disparate from their sales software.
Project Operations provides services firms not only with an end-to-end solution for all business processes that connects the entire organization from sales to finance. It also includes the sort of analytics tools with real-time insights they need to be able to react in an agile way to changing business models.
2. Microsoft's vendor background and project management software experience
Microsoft is the ideal developer of such software because it comes from neither a pure CRM nor a pure ERP background, which most other PSA software providers do. Consequently, other vendors either do not offer front-end capabilities or the necessary back-end processes.
Project Operations, on the other hand, was not built from scratch. In fact, it could be thought of as a "best of" of Microsoft's existing project management software – Microsoft Project, Dynamics 365 Project Service Automation and Dynamics 365 Finance – with some proven features from other tools sprinkled in.
With Dynamics 365 Project Operations, Microsoft uses its broad and deep expertise in the field and leverages its entire platform.
3. Dynamics 365 Project Operations offers end-to-end project management capabilities
Usually PSA tools combine project management and accounting capabilities, in some cases with added Human Capital Management (HCM) features, some analytics and collaboration functionality. These tools are often stitched together and difficult to customize or upgrade.
Dynamics 365 Project Operations, on the other hand, connects the entire service-based organization. It reimagines the billable project lifecycle across all business operations, starting with sales and culminating in business intelligence.
With that, Project Operations goes beyond a traditional PSA system and combines anything a professional services organization or department needs to run a successful business in one solution.
Project Operations thus includes
project sales capabilties (from Microsoft Dynamics 365 Sales),
project planning (with a built-in Microsoft Project workspace),
project utilization (based on the Universal Resource Scheduling engine),
team collaboration (using Microsoft Teams),
time and expense tracking,
project accounting,
and business intelligence.
4. Built-in Microsoft Project capabilities
This is what a lot of people have been waiting eagerly for and what they have sorely missed in Dynamics 365 Project Service Automation: embedded Microsoft Project Online capabilities.
Microsoft Project is the predominant project management software on the market and has been for close to three decades. Project Operations' project planning capabilities are based on Microsoft Project and facilitate the sales to project delivery handover.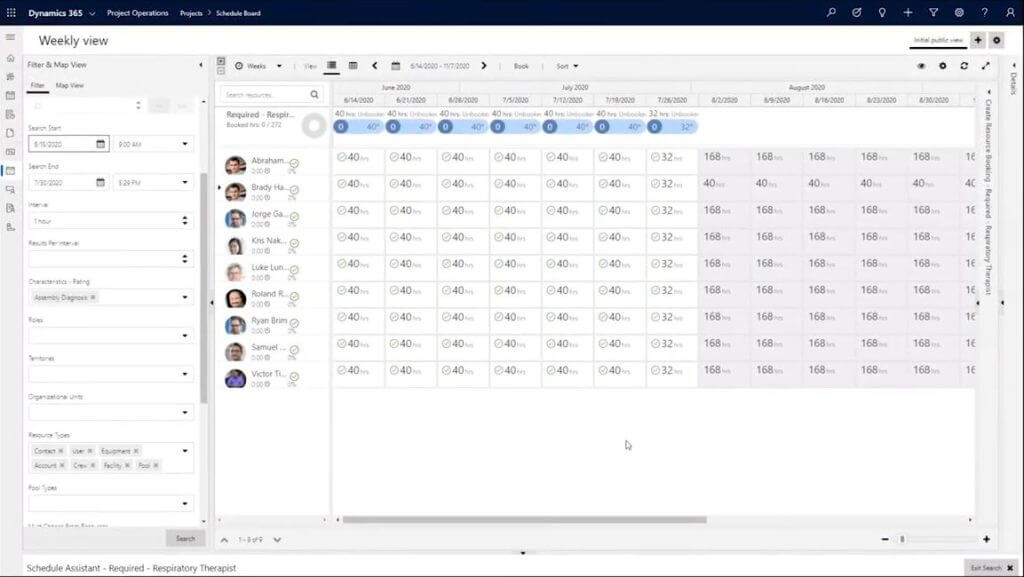 With the built-in Project for the Web workspace, project managers no longer have to switch from one solution to the other or import data. Instead, they can use Project directly in Project Operations.
5. Dynamics 365 Project Operations can be expanded into a service-based ERP
Microsoft tools usually come with one big advantage: they can be integrated with a whole host of other Microsoft tools. Project Operations is no exception. Being built on Microsoft's common data model and being part of its holistic cloud, Project Operations can be integrated with other Microsoft Dynamics 365 apps, the Power Platform and Microsoft Teams.
In fact with Dynamics 365 apps, such as Sales, Marketing, Customer Service, Human Resources and Supply Chain Management, organizations can turn this pure-play PSA solution into an end-to-end service-centric ERP system.
(However, the app can also be expanded using separate Dynamics modules as needed, for example with Sales to add deeper pipeline management functionality.)
Microsoft Dynamics 365 Project Operations = pure-play standalone PSA tool
Project Operations + Dynamics 365 apps = service-centric ERP
Our opinion of Microsoft Dynamics 365 Project Operations
As a longtime Microsoft Dynamics Partner, a member of the Inner Circle for Microsoft Business Applications and a renowned expert for Dynamics 365 Project Service Automation, we have been in the know about Project Operations for a while and have been able to thoroughly assess the app.
Project Operations is a valuable upgrade for those currently using Dynamics 365 PSA and a viable option for departments or divisions still employing Microsoft Excel and a separate ERP tool. For those using Microsoft Project and looking for a larger PSA tool to manage all aspects of their projects it probably is just what they were looking for.
To learn more about the app, head to our Project Operations product page where you can access an exclusive preview video and set up a consultancy call with one of our experts.
---
FAQ
What does PSA software do?
Professional Services Automation (PSA) software is a central hub where all activities of all departments of a company come together and can be managed centrally. PSA software supports businesses with evaluating leads, creating quotes and invoices, planning and managing projects and resources and tracking working times and expenses.
What kind of businesses use PSA software?
PSA software is helpful to project-oriented organizations from different industries like construction, engineering, business consultancy or IT. Team members with different roles collaborate in PSA software: project managers, salespersons, developers, technicians, consultants, accountants and other team members.
Does Microsoft Project have automation?
In Microsoft Project you can create automated workflows for desktop or mobile use. Project Operations' project planning capabilities are based on Microsoft Project.
What are the features of a PSA tool?
A PSA tool unites a variety of useful features such as one central database, capabilities for resource management, project planning and (financial) controlling, collaboration tools, and analytics and reporting tools.