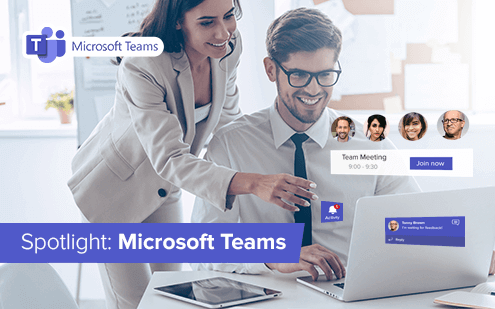 Microsoft Teams: Collaboration on a new level
Apr 20, 2020 | Last updated: Feb 28, 2023
In a recent blog post, proMX CEO Peter Linke opined that businesses should enable their staff to work from home at all times, not just in times of crisis. However, in the current situation the importance of being able to work from any place and having access to a central knowledge repository is particularly obvious. Microsoft Teams, which has graduated to become proMX's favourite communication tool, offers both: Files can be edited by several persons at once, processes are documented and other tools by Microsoft and third party providers can be integrated. Long e-mails with incoherrent subject lines are thus replaced by direct and personal communication.
Microsoft Teams is a chat-based modern workplace platform available as a desktop or mobile app. Released in March 2017, it has quickly become one of the fastest growing tools in Microsoft's history. proMX has been using it for close to three years. The social media like software is the central place for our internal collaboration. And customers can join discussions about their projects as guests.
Microsoft Teams is included in Office 365 licenses. However, to assist organizations in enabling their staff to work from home during the corona crisis, Microsoft has made the tool available for free for the next few months.
Sophisticated chat features
Central to Microsoft Teams is its chat functionality. It allows employees to communicate one-on-one or in group chats about their work. Likes, emojis, gifs and memes bring text based conversations closer to real-life office talk. There is also a meme generator that allows users to adapt well known tropes to their own team.
Word, PowerPoint, Excel and other files can be shared in chats and edited by multiple people at the same time. Each file shared in Microsoft Teams is automatically stored in the cloud.
To ensure that individuals see messages meant or important for them, others can 'mention' them (via @user) directly. Especially useful is to have a record of all messages in each channel, allowing users to search for information previously posted.
Calls, telephone and video conferences
The most important functionality in Microsoft Teams, however, is its video and voice call features. These allow users to work from any place at any time and on any device without restrictions. To coordinate quickly and avoid overflowing e-mail inboxes, Microsoft Teams includes call and video or telephone conference functionality. In these calls, attendees can share their desktops with others to facilitate discussions on a subject. When connected to an existing phone provider, provider and phone numbers may be kept to ensure that there is a comprehensive solution in place everywhere.
Teams Live lets users organize digital events and trainings for up to 10,000 attendees anywhere in the world.
How much is Microsoft Teams?
Example Ltd. is a small business with about 30 employees in Cambridge that offers trainings and language assessments. The education provider requires a tool that lets its staff collaborate from different offices and that lets it host its courses online.
Teams is quickly identified as the software that best fulfills Example Ltd.'s requirements. Its portfolio of features including calls, video calls, chats, live events and uncomplicated data storage allows collaboration from home.
For the entire package, Example Ltd. pays about €350 including telephone fees.
How different industries use Microsoft Teams
The modern business world is increasingly complex. Diverse requirements, high working speed and digital transformation affect work in different fields. Microsoft Teams helps businesses in various industries simplify collaboration and communication:
Firstline workers
Microsoft Teams includes features that assist mobile first-line workers, such as service staff or field technicians. The Teams smartphone or tablet app includes location sharing, a smart camera and the ability to record voice messages that allow such employees to communicate and collaborate on the go. A 'praise' feature lets managers and colleagues express their appreciation for all to see.
Education
Several schools, universities and other learning organizations use Teams to enable remote learning. At a London college, Teams is used to help students with special needs fully participate in classes.
Retail
At Swedish furniture retailer IKEA, Teams has helped reduce paper-based processes and travel.
Manufacturing
Arrow Electronics is using Teams to simplify collaboration and information sharing among different departments and deliver greater value to its customers.
Upcoming features for Microsoft Teams
On Teams' third anniversary Microsoft has announced several new features: in the future several artificial intelligence capabilities will be added to the platform, including:
Translation: Text will be automatically translated if two persons chat in different languages with one another.
Noise cancelling: Disturbing background noises in meetings will be able to be minimized so all attendees can understand.
Background blurring: Already the background of an attendee can be blurred in a video call which is a relief to those whose homeoffices are not particularly tidy or if movement in the background is distracting.
Handraising: Especially useful for larger meetings is a handraising functionality that lets attendees signal that they would like to say something.
Offline support: It will be possible to read and reply to chat messages when offline.
Connectivity: Microsoft Teams will be able to be connected to data glasses. This will allow production employees to access information and communication without using their hands directly at their place of work.
---
Do you already use Microsoft Teams or are you still considering whether it is the right solution for you? Talk to us to learn more!