Webinars with Microsoft Teams and Dynamics 365 Marketing
Sep 16, 2021 | Last updated: Nov 18, 2021
Expert articles
|

5

min read
Microsoft has been on an exciting journey with Microsoft Teams when it comes to organizing online events.
Previously, there had been no connection between Microsoft's collaboration tool and its business tools when it came to organizing events, which is why this is a huge step. Now, depending on your requirements, event managers have the freedom to start and support any kind of online, offline, or mixed event.
Microsoft has continuously been improving its event functionalities, and Teams now offers a variety of useful features 'Äď among them Teams Webinars. That makes organizing and running high-quality events as simple as ever, even if you aren'Äôt a professional event manager (yet).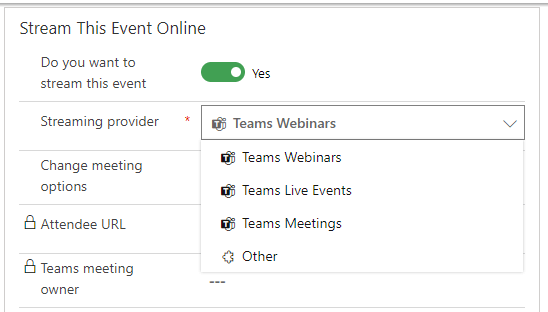 Teams Webinars are a great addition to your marketing routine. They are the golden mean between Teams Meetings, the basic way to start a simple event, and the more comprehensive Teams Live Events that give you the possibility to add third-party tools (e. g. to record content).
One particular strength of Teams Webinars is its lead-generation background that helps you collect leads and provides you with detailed statistics of event participants.
Before we get into the lead-aspect of Teams Webinars, however, let us look at its functionalities first.
What are Teams Webinars?
Teams Webinars are structured meetings with clear roles for presenters and participants. A key difference between Teams Webinars and Teams Meetings is that Webinars support registration and provides participant engagement, whereas Teams Live Events are mostly used for broadcasting purposes.
Host up to 1000 attendees in a meeting
Attendees beyond the 1000 limit join in view-only mode -> up to 10,000 (currently 20,000 due to COVID-19)
Forms-powered polls in meetings support guests
How to set up a Teams Webinar with Dynamics 365 Marketing
Create your webinar via the Microsoft Teams app or use Dynamics 365 Marketing to launch the event.
Either tool will give you the following options:
Our suggested settings are:
Disable all attendee microphones (you can enable/disable them individually)
Disable all attendee cameras (you can enable/disable them individually)
Record video automatically (to be on the safe side in case you forget to start the recording)
Access to a dashboard that shows registration and attendance data
Code to join the meeting
Teams Webinars lets you create a registration form without the need of a developer, which makes the organization of your event even quicker. The form can be easily customized to your requirements:
Once an attendee has registered, Dynamics 365 Marketing will take care of the rest of the journey: segmentation, the attendees' journey (welcome, thank-you e-mail, pre- and post-event e-mails etc.) and surveys.
Events in Dynamics 365 Marketing help you collect all attendees in one place, sort them (confirmed or rejected registrations), automatically create leads and contacts from all registrations, and form segments for future campaigns.
All that is left to do now is to promote your event to get as many people as possible to join it!
---
Even when you decide to organize an event as one person alone, Microsoft Teams (and Dynamics 365 Marketing) offer plenty of help and it's as simple as it gets.
---
For you as an administrator as well as for your attendees, there is a wide variety of functionalities available:
Breakout room timers, room retention, and participant re-assignment
Show reactions to content
Prevent people from joining the meeting after it started
Access different apps during the event (e.g. files, videos)
Reply to specific chat messages
Highlight different presenters
Once the event is over, you will have access to important data: an attendees' report and a video recording. The benefits of the Teams Webinars report outweigh those of Teams Live events:
You will have more details about attendees and fewer anonymous users
You will gain a better understanding of how long attendees actually stayed during your webinar, and thus be able to improve your event topics and structure in the future
Also, recorded events will make a great and much appreciated addition to your YouTube channel!
Teams Webinars: benefits at a glance
Quick and easy to set up
Easily customizable for your purpose
Perfectly harmonizes with Dynamics 365 Marketing
Attendees report with detailed statistics generates leads and gives you ideas for improvement
As marketers, we have little time and yet require more results. That is why Teams Webinars are perfect for many things at once: creating video content, collecting leads, spreading your knowledge, or engaging with your audience. They are quick to organize and easy to manage. It's all about marketing automation.
---
Read more about Dynamics 365 Marketing here or download our free white paper if you want to learn more about how to introduce marketing automation to your department. If you have any questions regarding Microsoft Dynamics 365 and the digital transformation of your company, we are always happy to help!