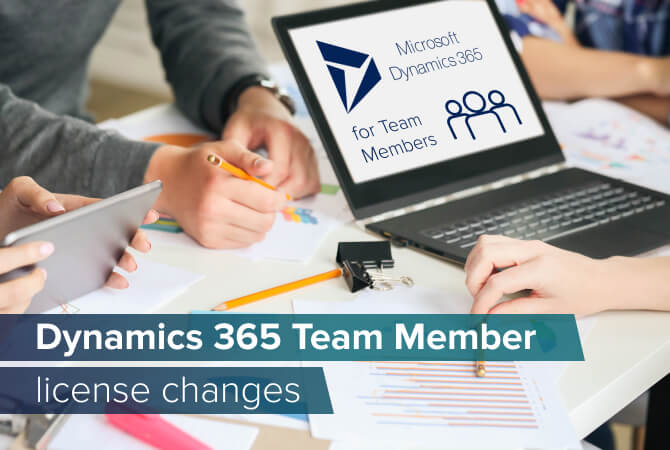 Dynamics 365: Important changes to Team Member license
Sep 22, 2020 | Last updated: Feb 23, 2023
Expert articles
|

3

min read
In October 2018 Microsoft announced changes to Dynamics 365 Team Member licenses. The deadline by which these changes have to be implemented is 31 January 2021.
Read on to find out what this means for you.
What is the Dynamics 365 Team Member License?
The Dynamics 365 Team Member license is meant for users that perform simple tasks in the system, such as tracking working time or updating personnel records. These users only require basic capabilities in the system, e.g. reading rights across Dynamics 365 Customer Engagement. A Team Member subscription does not provide access to custom applications.
Changes to the Dynamics 365 Team Member License
According to the new licensing conditions, users that purchased their Team Member license on or after 1 October, 2018 can only access the following applications since 1 April, 2020:
Customer Service Team Member
Sales Team Member
Project Resource Hub
By 31 January, 2021 at the latest, these users must ensure that they are assigned the right licenses to continue being able to perform their work.
Customers that purchased Team Member licenses prior to October 2018 are not currently affected by these changes and will be able to use these licenses according to the old conditions until their next subscription renewal.
Consequences
Users that have been assigned a Team Member license will not be able to access these applications in the future:
Customer Service Hub
Sales Hub
Project Service Automation
Other custom applications
Beyond these changes, their access rights to entities and other system functionality will be restricted.
Even though these changes have been in place since October 2018, access to these apps was still possible. Since 1 April 2020, users that try to access these apps via bookmarks or similar methods, get an error message that informs them that they are not assigned the right license to access the application in question.
The following user groups will not be affected by these changes:
Users of Microsoft Dynamics 365 on premises applications
Users of Dynamics 365 Online applications without Team Member licenses
Users of old Team Member licenses (purchased prior to 1 October, 2018)
Recommended course of action
If you use Team Member licenses, you should check which system capabilities your users require. We recommend that you then migrate all necessary changes to the applications in question.
You can find more information about this topic on Microsoft's dedicated FAQ page. Our experts are also happy to help you, should you have further questions. Don't hesitate to contact us!
---
FAQ
How does Microsoft Dynamics 365 licensing work?
Licensing is rather complex because you have different plans ranging from basic to premium usage. Microsoft provides an overview here. Important to note is that Microsoft partners often offer discounts on licensing packages.
How do I activate my Dynamics 365 license?
You can activate new user licenses in the Microsoft 365 admin center. If you need further help, please contact us.
What can a team member do in Dynamics 365 Business Central?
Dynamics 365 Business Central is Microsoft's Enterprise Resource Planning tool. Users with a team member license get restricted access to the solution. A few things they can do include reading any data in Business Central or filling in existing timesheets.