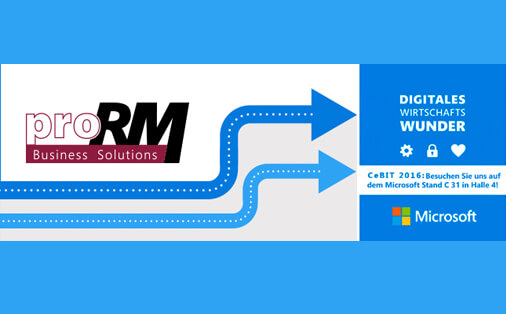 proMX and proRM Business Solutions – We Continue to Write our Success Story
If you would like to see the proven and tested, Microsoft Dynamics CRM-based resource and project management solution for the next generation in action, then Hall 4, Stand 31 of this year's CeBIT is the right place.
For years, proRM Business Solutions has stood among the leading resource and project management solutions based on Microsoft Dynamics CRM. There are two good reasons for this: the permanent development based on the real problems of our customers and in-death integration into the Microsoft applications and solutions portfolio. The complete application package is implemented in all phases of the business process. This allows for sales, resource, activity and project management to be effectively administered.
At CeBIT 2016, proMX GmbH, the leading and multiple award-winning xRM and CRM solutions provider, presents the most current versions of proRM Business Solutions.
Experience for yourself how
• proRM Business Solutions, being a sales, resource and project management solution, fulfils all customer requirements and seamlessly integrates into the Microsoft Dynamics CRM Platform.
• A fully compatible extension of Microsoft Dynamics CRM for sales, resource, activity and project management, which enables interactions between both employees and departments and communication with customers, can be effectively used in your company.
• You can embed proRM Business Solutions in your own computer center as a public or private internet solution (Public or Private Cloud).
At our booth, C31 in Hall 4, you will experience exiting examples of applications from the following fields:
• Project Management and Organization
• Marketing, Sales and Customer Experience
We are sure you are interested, and we are looking forward to meeting you! During your visit, we also can offer you an opportunity for one-on-one discussions with our experts and customers.