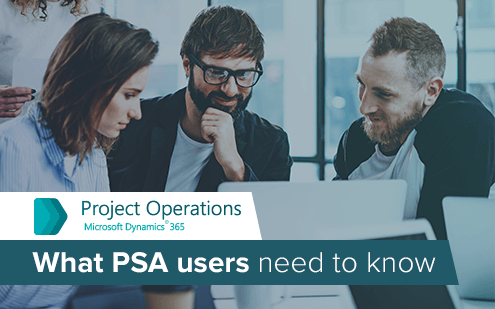 Dynamics 365 Project Operations: What PSA users need to know
Mar 17, 2020 | Last updated: Feb 23, 2023
In February 2020, Microsoft announced its new project management module for Dynamics 365 called Microsoft Dynamics 365 Project Operations. This new app combines capabilities of three existing solutions and replaces Dynamics 365 Project Service Automation (PSA) to become Microsoft's sole end-to-end project service automation software.
For current PSA users, this raises a lot of questions. Below we answer the most frequently asked ones.
Why has Microsoft developed Dynamics 365 Project Operations?
There are a few reasons:
Users found themselves confused as to which of Microsoft's project management apps – Project, PSA, Dynamics 365 Finance – was right for them.
There was some duplicate functionality between these apps.
PSA users missed the mature project planning functionality of Microsoft Project.
Many organizations are currently using a combination of PSA, Dynamics 365 Finance, and Project to serve their project business. Some have been working on how to integrate these products with each other to bring their capabilities together.
Project-based businesses are usually looking for an end-to-end solution that covers the entire project cycle and serves the needs of their project services.
For all these reasons, Microsoft decided to develop a new application that would include every area of the project cycle, from front-end sales functionality to back-end project accounting and financials.
How does Project Operations differ from Dynamics 365 Project Service Automation?
Both PSA and Project Operations are end-to-end project automation tools. While PSA is more focused on the front-office project management business, the new app offers functionality for more personas involved in projects, including accounting and finance teams. Putting it informally, it's PSA with the project planning capabilities of Project for the web.
Dynamics 365 Project Operations brings together the best capabilities of Microsoft's existing project management software, namely:
Project Sales
Project Planning
Resource Utilization
Team Collaboration
Time and Expense Tracking
Project Accounting
Business Intelligence
The following personas will be able to work with the new module:
Account Manager
Project Manager
Partner Manager
Resource Manager
Team Member
Project Accountant
COO/Practice Director
What will happen to Dynamics 365 Project Service Automation?
Microsoft stopped selling PSA from 1 October, 2020 when Project Operations became available. Since then, it has not been possible to purchase any new PSA licenses. Users can continue to renew existing PSA licenses until October 1, 2021.
Support and updates for PSA will cease in October 2024. All roadmap investments and enhancements for PSA will be done through Project Operations.
How can PSA users transition to the new app?
PSA users will not be faced with immediate disruption. Instead, they will have between two (CSP contracts) and four years (Enterprise Agreement contracts) to transition to Project Operations.
Microsoft and partners like proMX will work with PSA users to make sure they can make the switch at their own pace. Once they are ready to move, they will be offered migration tools.
With its 2021 release wave 1 plan, Microsoft promised a frictionless data upgrade from PSA to PO. Public preview of the necessary functionalities will start in September 2021, there is no date for their general availability yet. For users it means that they need to wait for more information. Microsoft promises there will be enough time for switching from PSA to PO, though.
When did Dynamics 365 Project Operations become available?
Project Operations became generally available on October 1, 2020.
Where can I learn more about the new app?
You can find more information on our Project Operations product page.
The public preview for Dynamics 365 Project Operations started in June 2020.
What will the licensing for Dynamics 365 Project Operations look like?
The current PSA license will be sunset upon the release of Project Operations. Current PSA customers are locked into the licensing agreement they have today.
Customers with active usage of PSA will automatically have Project Operations added to their licenses from April 2021.
What will happen to Microsoft Project?
Microsoft Project will continue to be available as a standalone app.
---
Of course, we will keep you up-to-date about any news regarding the transition from Project Service Automation to Project Operations. Make sure to follow us on LinkedIn to not miss the latest developments.