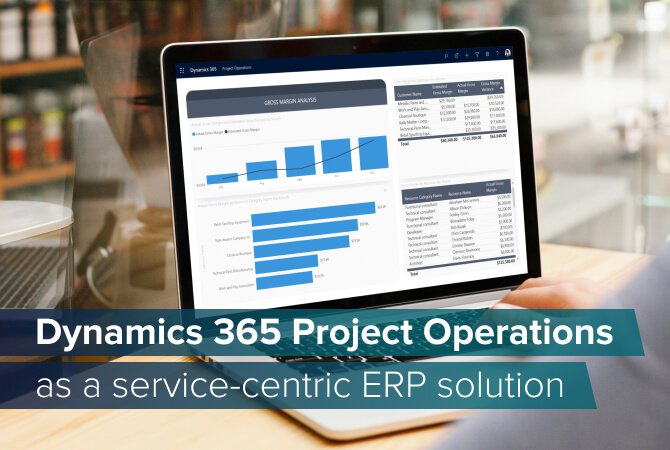 Microsoft Dynamics 365 Project Operations as a service-centric ERP system
Sep 1, 2020 | Last updated: Mar 6, 2023
Expert articles
|

5

min read
Microsoft's forthcoming Professional Services Automation (PSA) app will be called Dynamics 365 Project Operations. However, the cloud solution, once it becomes available in October 2020, will not merely be a pure-play PSA software in the vain of FinancialForce, Workday or Oracle NetSuite PSA. Dynamics 365 Project Operations can also serve as a service-centric ERP system, given its extensibility through additional Dynamics 365 applications and the Microsoft Power Platform.
For project-based professional services organizations this is another useful feature of the new Dynamics 365 app, which is why we want to take a closer look at Project Operations' ERP functionality.
What is Dynamics 356 Project Operations?
To fully understand what Dynamics 365 Project Operations is, let's take a step back to the fall of 2016 and look at the then newly launched Dynamics 365. Upon its release, the platform did something that the Microsoft world had not seen before, combining previously separate CRM and ERP functionality in one solution. Dynamics 365 is a suite of business applications, with each module focusing on a different business area.
Hence, there was no longer a solution called Dynamics 365 CRM but several different apps that pertain to customer relationship management, such as Dynamics 365 Sales, Dynamics 365 Customer Service and Dynamics 365 Marketing.
Back to Dynamics 365 Project Operations. With this new app, Microsoft takes the Dynamics 365 philosophy a step further still. Project Operations connects project sales, resourcing, delivery and finances and thus provides the entire project team with all the functionality they need to set it up for project success.
How does it do that? Project Operations is a "best of" software combining Microsoft Dynamics 365 Project Service Automation, Microsoft Project and certain ERP features from what used to be known as Dynamics 365 Finance & Operations. Combined in one app, Project Operations reimagines the billable project lifecycle across all business operations.
What is an ERP system?
Before we look at Dynamics 365 Project Operations' ERP functionality, let us remember what an ERP system is and why businesses need it. ERP stands for enterprise resource planning. An ERP software helps businesses to manage their business processes across accounting, supply chain, operations, manufacturing, human resources and reporting. It supports officials both in their everyday work and to drive long-term growth.
Here are just a few reasons why an ERP system is beneficial:
To effectively unify all business processes
To improve collaboration
To help in making data-informed decisions
To increase productivity
However, many businesses are worried about finding the right ERP system and implementing it. They are concerned that no tool will meet their business's needs, that they cannot afford such a system or are reticent to get rid of an existing solution.
Project Operations + additional Dynamics 365 apps = service-centric ERP
The line that separates project management from enterprise resource planning is increasingly blurred. Both processes are closely related. Take invoicing, for example. Is it a project management task or should it be handled in an ERP system? With two systems, there is a risk of double data storage.
Project Operations transcends the boundaries between PSA and ERP. It can be used by all personas involved in the project process, whether in sales, project delivery or accounting. Expanded with the Microsoft Power Platform and other Dynamics 365 modules, Project Operations can be turned into and end-to-end service-centric ERP system.
Project Operations can help optimize processes and offer insights across marketing, sales, customer service, human resources, resourcing, project delivery, supply chain management, finance and BI.
Dynamics 365 Project Operations lets users:
Access data and insights
Gain a complete view of each project with Power BI
Understand upcoming business needs
Drive innovation through better business decisions
Turn data into decisions with AI and machine learning
Maximize project profitability
Plan, manage, cost, and measure each project's performance
Foster best practices
Ensure standards and practices compliance
Track project spend and payables with invoicing and purchase order management
Let's look at three possible expanded integrations in particular:
Project Operations expanded with Dynamics 365 Supply Chain Management
By adding Dynamics 365 Supply Chain Management to the app, businesses can further benefit from predictive insights and intelligence from Artificial Intelligence and the Internet of Things across planning, production, inventory, warehouse, and transportation management. As a result, they will improve the quality of their products, the efficiency of their operation, and therefore their profitability.
Project Operations expanded with Dynamics 365 Finance
Businesses can expand their Financial tracking in Project Operations with Dynamics 365 Finance. This lets users monitor performance in real-time, predict future outcomes and make data-driven decisions.
Project Operations expanded with Dynamics 365 Human Resources
A key challenge for service-based organizations is hiring and retaining new talent to work. Integrating Dynamics 365 Human Resources with Project Operations helps in that effort by enabling businesses to better take care of their employees and transforming employee experience. HR leaders will have the insights to optimize program and increase organizational agility.
What distinguishes Project Operations
One of the main benefits of Dynamics 365 Project Operations as a service-centric ERP app is that the disruptions of media between different systems for accounting, finance or HR are eliminated. Each department has transparency over what others do.
Microsoft Dynamics 365 Project Operations is an alternative to products such as SAP, Oracle, Infor and Sage. The difference is that Project Operations does not require an interface to a project management or PSA solution.
---
If you want to learn more about Dynamics 365 Project Operations as a PSA or ERP app, contact us! Our experts are happy to answer your questions.