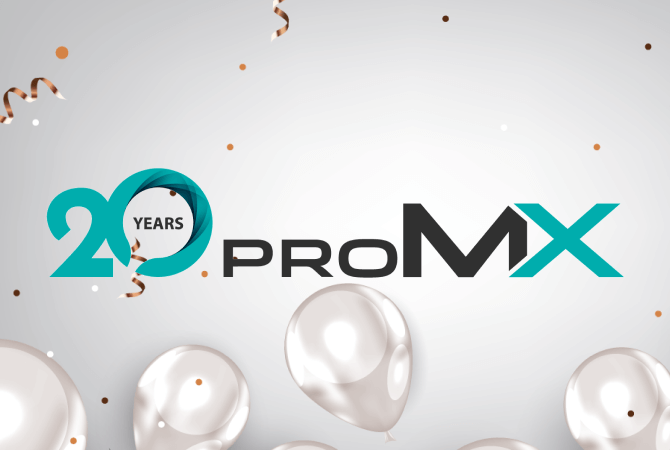 Dec 14, 2020 | Last updated: Nov 23, 2023
Company News
|

4

min read
On 13 December 2000, Al Gore declared in Washington that George W. Bush had won the US presidential election, Lance Armstrong threatened to boycott the Tour de France in response to doping allegations against him and Steve Balmer was still CEO of Microsoft. Meanwhile, Peter Linke, Georg Schmidt and Thomas Dorn founded proMX.
Now we are 20 years old. Older than Microsoft Dynamics 365, the cloud and Greta Thunberg. Younger, however, than Who Wants to be a Millionaire?, the Euro and Harry Potter.
From system integrator to Dynamics Partner
If you have ever wondered what proMX stands for, here is your answer: In the early days, we worked with professional Message Exchange. In the 2000s, the newly founded company developed add-ons for Microsoft Exchange Server, including workflows for room reservations and employee bookings. proMX saw itself as an individual software developer.
Everything changed when Microsoft CRM was released in 2003, the predecessor of Dynamics CRM and pre-predecessor of Dynamics 365. proMX decided to take on this new product – not only as a system integrator, but also as an Independent Software Vendor (ISV). Since beginning with version 3.0 Anything Relationship Management (xRM) for the system became possible. Meaning Microsoft Partners could develop and distribute their own add-ons for the solution.
"We turned the entire company inside out," remembers co-founder and current CEO Peter Linke. "We turned from a company focused on professional Message Exchange into one that implements CRM and builds its own products. This changed the company completely."
The main product, project management extension proRM Business Solutions, is still being distributed as proRM Fast Start for Dynamics 365 today. In 2011 Microsoft named it its "CRM Solution of the Year."
Incredible heights – and a surprising disruption
Three years later, proMX itself was among the winners at the annual Worldwide Partner Conference. We were awarded the coveted Country Partner of the Year for Germany.
Soon after, shocking news:Microsoft informed us that it was developing its own project management solution. "It was like having the rug pulled from underneath your feet," remembers Peter Linke. A classic case of disruption. We experienced ourselves what we are now aiming to protect our customers from.
proMX decided to support Microsoft in its endeavor, namely the development of Dynamics 365 Project Service Automation (PSA for short, now known as Dynamics 365 Project Operations). As a longtime developer of project management software, we advised our colleagues in Redmond during the process and regularly tested the app for them.
This led to us to forming an even closer relationship with Microsoft as well as becoming specialists for PSA even before its release. Together, we won one of the first customers worldwide for the app and in subsequent years implemented it in several organizations, becoming one of the leading PSA experts worldwide – and still offering our own, adapted, project management solution.
2020: Working from home, staying productive
Looking back at 2020, we can luckily say that the pandemic has not affected our work in any major way. Our entire staff has been working from home since the end of February. Unlike other businesses, this was not a big change for us. Approximately half of our team had been working from home pre-corona anyway, while the other half could easily make the switch given the modern workplace that we had already had in place.
In fact, proMX has been growing massively despite the pandemic. Many new colleagues have joined us in 2020, we founded our first office in the US, our project management solution for the construction industry was released and we have won large projects in Germany and abroad.
2021: There will be a party!
Of course, we could not celebrate in-person on our actual anniversary. We are confident, however, that we can catch up on that in mid-2021. At this point we will have moved into our new offices in Nuremberg and can make use of its two roof top terraces. Peter Linke promises: "This won't be some stiff corporate event. It will be a party!"