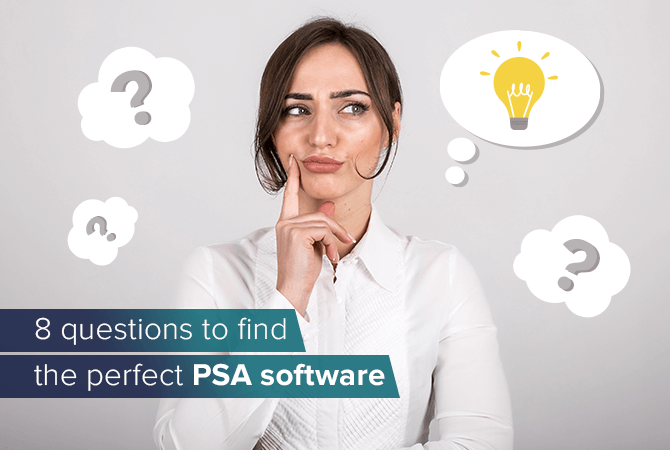 8 questions to ask when choosing your Professional Services Automation software
Digital transformation has long reached the professional services industry and brought some specific solutions with it. Professional Services Automation (PSA) software has been developed specifically for project-oriented companies to reduce the workload across departments and optimize business operations.
The focus is on project management, still, the entire project lifecycle is covered by PSA software: from sales to project planning and project execution (including resource management, collaboration and controlling) up to invoicing and final evaluation.
If you are not familiar with PSA software, you find all you need to know in this article.
PSA software is in high demand and there are many different solutions on the market. To provide you with some guidance, we have collected eight questions that will help you find the perfect solution for your business.
1. What do you want to achieve with PSA software?
Is it your goal to win more customers? Do you want to increase your team's productivity? Or is your plan to make more informed decisions based on comprehensive, well-structured data? Think about what is most important for your company and, if possible, discuss your ideas with representatives of different departments. Focus on your predetermined goals while searching for the most suitable solution.
Most PSA solutions offer a variety of features, many of which will sound tempting when you first hear of them. Don't lose yourself in too many details, though, and make sure that the software supports your organization's overall objective. Another point to consider is that too many different features can be confusing for users.
2. What are your company's weaknesses?
PSA software can be of great help in achieving your goals. But you need to identify the problems you want to solve first. Here are a few examples of challenges that many services companies try to tackle:
Closing customer projects on time and within the agreed budget
Assigning existing resources sensibly (according to skills, availabilities and locations)
Preparing reliable quotes and estimates
Creating invoices based on actual working hours
Breaking up data silos
Collaborating from multiple national and international locations
Mention your organization's individual challenges and issues in consultation meetings you will have with software providers. Only if an application can solve them all should you consider it an option for you.
3. Which specific requirements does your business have for Professional Services Automation?
The priorities of what PSA should be capable of may vary depending on the industry. Law firms possibly require high security standards and clearly defined access control, while for a construction company, it might be essential that they can work well with subcontractors within the same application. What are the special requirements of your industry?
The size and the number of employees should be taken into account as well. As you can imagine, it makes a difference whether your project managers coordinate teams of 5 or 50 members.
4. What does your current IT landscape look like?
Combined with the follow-up question: Which applications do you plan to replace with the new PSA software, and which will you keep? You should definitely opt for a PSA solution that can be integrated seamlessly into your current IT infrastructure. After all, it is your intention to avoid data silos and media disruptions.
Our tip: If you are already using Microsoft products such as Word, Excel, Microsoft Teams or other apps, stick with Microsoft. Not only can you be certain that your new solution will connect to your current system without any problems, your employees are already used to working with Microsoft software, so the introduction to the new solution will go smoothly and quickly.
Learn more about Microsoft's PSA solution Dynamics 365 Project Operations in this white paper.
5. How do you envision the future of your company?
Do you have many vacancies you want to fill in the next months? Are there plans to open one or several new departments? Do you intend to open new subsidiaries? You should keep all these questions in mind while purchasing new PSA software; since you most likely don't want to exchange the software again in only a few years because it isn't sufficient for your purposes anymore.
To be on the safe side, you should select an application that you can quickly scale up or size down if necessary. Licensing models offer, e.g., the possibility to buy new licenses on short notice to provide more employees access to the solution.
It is also useful to have the option to integrate third-party solutions, especially if you plan to expand your core business or change the direction of your business model, which might require additional apps .
6. Who will be using the PSA solution?
A PSA solution unites several areas of a company in one application. Include representatives of every department that will be using the solution in the future in the purchase decision. If possible, see that you involve employees of different levels, i.e. not only managers but project members or service agents, too. The different opinions can provide you with a comprehensive picture of what each party expects from the new solution.
Once again, it is important that you stay focused on the key functionalities and don't get lost in too many details and personal wishes.
7. What will be the costs if your company does (not) invest in a new PSA solution?
You can view the aspect of costs from two different angles:
A) What are the costs of acquiring a Professional Services Automation solution?
It is no secret that your company will have to invest a considerable amount of money, depending on the price of the chosen product, the number of users and the degree of customization. On top of that, you need to calculate costs for employee training and continuing support.
B) What will it cost the company mid to long term not to invest in new technology?
In the long run, PSA software will streamline and partially even automate workflows – given you use it properly. Consequently, overall corporate costs will decrease and, in the best case, revenue and profit will increase.
8. Who will be your implementation partner?
When purchasing and implementing a solution as large and process-changing as one for Professional Services Automation, it is not just the product itself you need to have an eye on. Almost equally important is who will implement and maintain it. Your implementation partner also has a big responsibility since they need to:
understand and implement your requirements, wishes and needs,
seamlessly integrate the solution with your existing IT infrastructure,
teach future users,
and be by your side with technical support and solid advice.
Make sure your service provider is not only technically competent but gives you and your team a good feeling.
See for yourself
Our last piece of advice is not a question but a call to action. Once you have researched some options and prepared a shortlist of possible solutions, you should definitely explore the actual application or let professionals give you a demonstration.
Make an appointment with us, proMX, and discover what Dynamics 365 Project Operations has to offer. Our experts will answer all your questions. If we discuss your expectations and requirements first, we are even able to offer you a tailored demo that fits your situation.
Leave us a message or call us directly. We are looking forward to hearing from you!