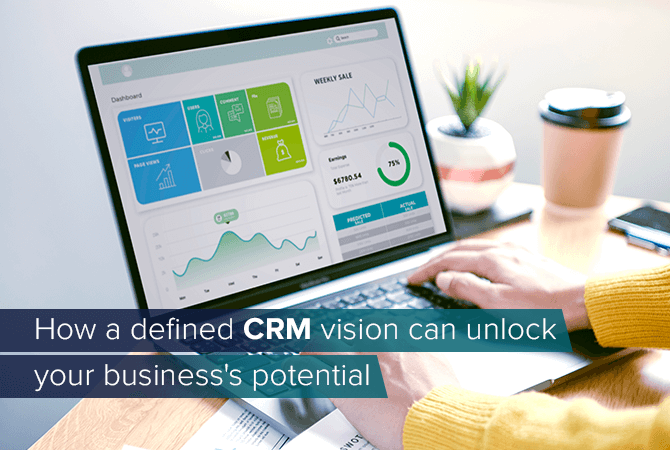 How a defined CRM vision can unlock your business's potential
May 23, 2023 | Last updated: May 25, 2023
Customer relationships are crucial to the success of most businesses, which is why companies who want to remain competitive must make customer relationship management (CRM) a top priority. To do this well, it is important that companies define a CRM vision which enables them to maintain healthy, mutually beneficial relationships with their customers.
In this article, we want to shed more light on the importance of a defined CRM vision, and walk you through the necessary steps to create one. We'll also explain why Microsoft Dynamics 365 is our CRM system of choice.
The importance of CRM vision and goals
Effectively managing customer relationships is essential for any successful business, which means having a clearly defined CRM vision and goals is critical to an organization's success.
How to define your CRM vision
In order to sustainably benefit from a CRM vision, that vision must be clearly defined. So, when creating one, it is important to take the following steps:
Evaluate your current CRM system
Start by analyzing your existing CRM system. Do you currently have a system in place? If so, is it meeting your company's needs? Identify its strengths and weaknesses and determine how these can be optimized.
Decide which areas the CRM system should focus on to strengthen your company in the long term and be successful.
Assess potential weaknesses and areas for improvement
Customer journey: By improving the customer journey, you can ensure that customers are optimally served and reached at every stage of the buying process.
Operational efficiency: Increasing operational efficiency can be achieved by automating routine tasks, better coordinating sales and marketing and improving data quality.
Customer loyalty: To increase customer loyalty, respond to your customers' needs, provide them with excellent customer service and make individualized offers.
Customer acquisition costs: Customer acquisition costs make up a crucial part of the marketing budget. Minimize these costs by using a CRM system, which can set the business up for long-term profitability and save money.
Profit: A decisive key metric in a company is profit. With the help of a CRM system, you can not only monitor your cash flows and evaluate them with the help of AI, you can also control and readjust them with targeted measures.
Customer satisfaction: Customer satisfaction holds insane potential for a company's success. A CRM is designed to leverage this potential weakness in your business and increase customer satisfaction.
How can a CRM system solve these problems?
Once you have identified your business's weaknesses and areas for improvement, investigate how a CRM system can help you eliminate these problems. Define clearly measurable and achievable goals to ensure the success of your CRM strategy. These should be based on the previously defined areas and be realistically achievable.
You can also set a series of objectives, or milestones for each area, each of which you aim to complete over a specific period of time.
Typically, a CRM system is particularly helpful and profitable for businesses in the following areas:
Improving the customer journey A CRM system should help increase customer satisfaction and provide a personalized experience. Use a CRM system to create consistent customer profiles and better understand your customers' needs.This allows you to customize interactions with your customers and better tailor your products and services to them.
Increasing operational efficiency Utilize a CRM system to make the sales process more efficient by automating repetitive administrative tasks. These include audience segmentation, email follow-up, post-sales workflows, and invoicing. By bringing together customer information from different departments such as sales, marketing and customer service into one central dashboard, your business can benefit from improved communication and collaboration.
Improving customer loyalty A CRM system improves customer retention by creating and continuously updating comprehensive customer profiles. It allows you to use proactive communication and personalized offers to target customer needs. In addition, CRM systems allow you to monitor customer satisfaction (and respond immediately to negative feedback when needed) to strengthen customer relationships and build long-term loyalty.
Lowering the cost of customer acquisition
A well-configured CRM system helps you reduce customer acquisition costs by increasing the efficiency of your marketing and sales processes. It allows you to segment potential customers in a more targeted way that ensures more accurate targeting. In addition, by analyzing the data collected, you can develop optimized marketing strategies that achieve a higher conversion rate and thus reduce the cost per customer acquired.
Increasing sales Used and optimized correctly, a CRM system significantly increases company turnover by maximizing the effectiveness of your sales team. By analyzing customer data, such as purchase history and interactions, the CRM system can identify cross-selling and upselling potential, then make appropriate recommendations to your sales team. This enables your team to make targeted sales calls and increase revenue per customer. In addition, the CRM system can help streamline sales processes by automatically identifying and prioritizing sales opportunities, resulting in a higher close rate.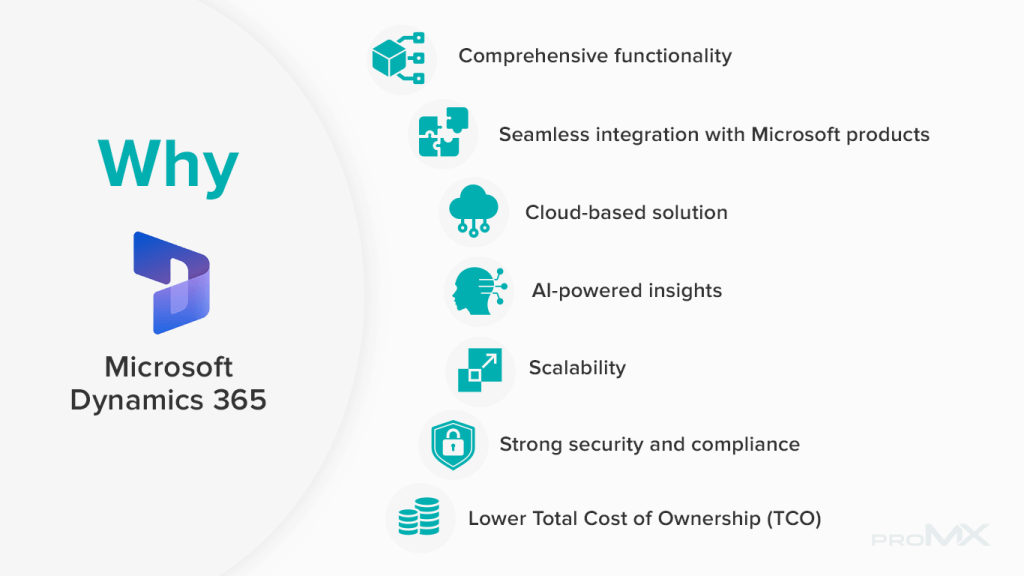 Why you should choose Microsoft Dynamics 365 over other solutions
Microsoft Dynamics 365 offers several advantages over other CRM solutions. Here are a few reasons it's our first choice when it comes to CRM systems:
Comprehensive functionality
Dynamics 365 offers a wide range of features that allow you to effectively manage all aspects of your customer relationships.
Seamless integration with Microsoft products
Dynamics 365 CRM is seamlessly integrated into the Microsoft ecosystem, making it easy to work with other Microsoft products like Office 365 and Power BI.
Cloud-based solution
Because Dynamics 365 is a cloud-based solution, you can access your data anytime, anywhere without having to worry about hardware or software updates.
AI-powered insights
Microsoft Dynamics 365 uses artificial intelligence (AI) to extract meaningful insights from your customer data. These insights can help to better identify sales opportunities and optimize processes.
Scalability
Dynamics 365 CRM is a scalable solution that can grow with your business. You can add additional features or modules at any time to meet your changing business needs.
High security and compliance
Microsoft Dynamics 365 CRM offers a high level of security and privacy to ensure your customer data is protected. It also meets key data protection and compliance standards.
Lower total cost of ownership (TCO).
By using Microsoft Dynamics 365, businesses can reduce their total cost of ownership as it requires less effort for maintenance and updates and improves the efficiency of business processes.
Business areas in which Microsoft Dynamics 365 CRM excels
Microsoft Dynamics 365 is particularly suitable for the following business areas:
Sales: management of leads, opportunities, and sales processes
Marketing: automating marketing campaigns and customer communications
Customer service: processing customer service requests and complaints
Field Service: planning and management of field service orders
Project Management: Managing projects, resources and budgets
Human Resources: Managing employee information and talent management
Conclusion
A CRM system can help your business improve customer retention, increase operational efficiency, reduce customer acquisition costs and increase revenue. Microsoft Dynamics 365 CRM is a powerful and scalable solution that is ideal for businesses of all sizes.
With its comprehensive functionality, seamless integration with other Microsoft products, AI-powered insights and high security standards, Dynamics 365 can help your business effectively achieve its CRM goals and gain a competitive advantage in the marketplace.