Why Microsoft Dynamics CRM became Microsoft Dynamics 365
Sep 3, 2019 | Last updated: Apr 19, 2023
Have you ever googled "Microsoft Dynamics CRM"?
Do not worry if you come out of that experience thoroughly confused. The search results form quite a confusing picture, which includes both the terms "Microsoft Dynamics CRM" and "Microsoft Dynamics 365" as well as any possible combination of the two.
You will probably end up asking yourself: What is Microsoft Dynamics 365? How is it different from Microsoft Dynamics CRM? And what is this software actually called?
First things first: In late 2016, Microsoft Dynamics CRM was replaced by Microsoft Dynamics 365.
While Dynamics 365 does include all functionality previously covered by Dynamics CRM, it is much more comprehensive. It also represents a completely new approach to business software.
Before 2016: Microsoft Dynamics business applications
Microsoft was one of the first movers in Customer Relationship Management (CRM) software. The main idea of CRM is to bundle all customer data centrally in one software. In concrete terms this means recording all activity regarding a customer, including quotes, orders but also e-mails and calls. This is to help mainly the sales department, but also marketing and customer service to understand the customer and plan their activities accordingly. Well-known CRM systems besides Microsoft Dynamics CRM include SugarCRM, Salesforce, Oracle and Sage CRM.
Microsoft's "Dynamics" product lines also included Enterprise Resource Planning (ERP) solutions:
Since 2016: The Microsoft Dynamics 365 Platform
At Microsoft's annual Inspire conference in July 2016, the corporation announced that it would merge its previously separate CRM and ERP solutions in one cloud-based platform: Microsoft Dynamics 365. Not in one application, however, but as a suite of nine dedicated business apps.

These tailor-made, highly functional business apps can be used as stand-alone solutions or combined into an end-to-end solution that covers the entire business cycle without disruption of media.
This solution can grow with one's business. There is no obligation to buy all or a certain number of apps at the same time. This makes Dynamics 365 suitable not only for large enterprises but also for small and mid-sized businesses.
Each app can be extended with third party add-ons that bring the solution even closer to an industry's or a company's specific needs. For this purpose, Microsoft has established AppSource, an online marketplace where users can find and test third-party developed add-ons for Dynamics 365 apps.
Accomplishing digital transformation with Microsoft Dynamics 365
But why did Microsoft find this new concept necessary? While Microsoft Dynamics CRM (and the other Dynamics solutions) were ideal facilitators of digitalization, meaning the process of bringing analog processes into the digital sphere, Microsoft Dynamics 365 is the right software for digital transformation. This concept refers to a complete reinvention of one's processes to achieve more efficiency and productivity with the help of modern technology.
There are several circumstances that have contributed to the urgency of a new business applications philosophy, among them:
Higher customer demands
These days, customers can pick between a large number of providers and suppliers and thus have developed higher demands when it comes to quality of products and services, customer service and price.
The ability to make their wishes, demands and criticism heard on multiple channels has provided customers with more power than ever before. They expect fast and individual responses to their cases on all channels.
To meet – or better, surpass – these expectations, businesses have to be able to react quickly, anticipate demand and provide smooth customer service.
Evolved sales strategy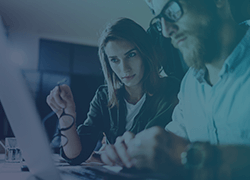 The prevalent opinion on what constitutes successful sales activities has changed since Microsoft Dynamics CRM v 1.0. Sheer quantity of data is no longer everything.
Customers demand more than standardized offers. They are increasingly looking for products and services tailored exactly to their needs.
A modern sales automation software should not just help you businesses organize their data but do much more than that: optimize and automize processes, provide analytics, support employees with their sales activities.
More flexible workplace
Employees, too, request more of businesses. Compatibility of family and career is becoming more and more important to all genders. And with it the importance of a Modern Workplace grows. Working from any place at any time is simply not possible without cloud computing.
At the same time people's tolerance for unorganized processes has nosedived. In 2019, why should I still have to use large document folders and clipboards when data can be stored in the cloud and accessed from anywhere even on mobile devices, many ask themselves?
Microsoft Dynamics 365: From CRM to Customer Engagement
Obviously, the world has moved on since Microsoft CRM v 1.0 in 2001. Of course, all Dynamics solutions had been continually improved and updated. Yet, these fairly siloed solutions were no longer enough to meet the demands of businesses as well as customers in a satisfying way.
Microsoft Dynamics 365 can. Microsoft has not only worked on the technical aspects of its business software, i.e. moving from standalone solutions to an end-to-end platform and making it available in the cloud only. Dynamics 365 also represents a paradigm shift: from mere customer relationship management to value-added customer engagement.
The Customer Engagement Plan
All Dynamics 365 apps that deal with the dialog between business and customer are bundled in the Customer Engagement Plan. It includes the apps Sales, Marketing, Customer Service, Field Service and Project Service Automation (PSA).
Sales
The sales app can do anything Microsoft Dynamics CRM could do, and then some. It is more than just a customer relationship management system. With its business process flow, intelligent tools and real time dashboards, Dynamics 365 for Sales simplifies everyday sales activities as well as helping with onboarding new team members, optimizing processes and engaging customers.
Marketing
Dynamics 365 for Marketing is the first dedicated marketing solution in Dynamics history (previously marketing had been a module included in Dynamics CRM). It not only facilitates cooperation with sales teams but also with lead nurturing and finding the right strategy. It includes tools such as detailed customer journeys, personalized mailings and attractive, easily designed landing pages.
Customer Service
Without a plan and proper organization, it is nearly impossible to provide good customer service on all channels now available. Dynamics 365 for Customer Service is the tool that helps companies respond quickly, efficiently and in a personalized manner to service requests.
Project Service Automation
In many lines of business, project management is crucial to overall business success. Dynamics 365 for Project Service Automation is a comprehensive software that can accurately depict even the most complex projects. The app allows users to staff, plan and invoice projects and communicate efficiently with project stakeholders.
Field Service
Field service requires an exceptional amount of planning and coordination with customers. Dynamics 365 for Field Service can turn this area of business into a profit maker by simplifying processes, making on-site visits more productive and generally increasing customer satisfaction.
If you would like to learn more about the Microsoft Dynamics 365 Customer Engagement apps, our experts are happy to answer your questions. Contact them anytime.
---
FAQ
Why should I choose Dynamics 365 as my next CRM?
Dynamics 365 combines a range of business applications designed to help companies manage their customer interactions more effectively. It is a cloud-based, flexible solution that can be highly customized thanks to the various low-code apps included in Microsoft Power Platform and is suitable for small and medium-sized businesses, enterprises, and many different industries. 
What are the components of Dynamics 365?
Dynamics 365 includes different software modules for managing enterprise resources and customer relationships, e. g. Dynamics 365 Sales, Dynamics 365 Marketing, Dynamics 365 Project Operations, Dynamics 365 Field Service, and more. 
Is Microsoft Dynamics 365 an ERP?
Yes, Microsoft Dynamics 365 is an enterprise resource planning (ERP) software that is designed to help businesses manage their operations, finances, and resources more effectively.