Why Microsoft Dynamics 365 is perfect for SMEs
Dec 19, 2018 | Last updated: Mar 5, 2023
Can you remember when you last made it through a day without hearing the word "digitalization"? The issue is on everybody's mind – in health care, entertainment, government, transportation – and, of course, business.
At this point, most companies have initiated some sort of digitization project. But when it comes to true digital transformation, there is still a gap between enterprise companies with hundreds of employees and small and medium-sized businesses, which are far more hesitant.
This is not surprising, of course. SMEs have fewer resources available to them. Their IT budgets are smaller, they have fewer employees and usually less IT knowhow in their organizations. It is thus harder for them to find a software that fits their needs, whether it's a CRM, ERP or project management solution.
Small businesses, big challenges
Yet, in some ways it is SMEs that benefit most from transforming their business with digital technology. Let's look at some of the most pressing issues facing them:
Inefficency
Smaller companies often do not use purpose-built tools. Instead, they make do with what they have. Keeping databases in Microsoft Excel is a classic example.
Their IT infrastructure also tends to be affected by disruptions of media since different tools are used for different purposes. This forces employees to switch constantly from one software to another and results in inefficient processes that weigh heavily on small teams that have limited time to accomplish plenty of tasks.
Data Silos
Transparency issues are another common problem. Often, individual employees, mostly longtime staff, accumulate a great deal of knowledge during their time at a company, recording processes, customers, products and more. However, this expertise is nowhere to be found but in that particular employee's head. Should an issue arise while they are on vacation, that's just tough look for their colleagues and for the customer. In the worst case, most of this knowhow is lost, if they ever leave the company.
Unsuitable Software
Even if there is willingness to invest in IT infrastructure, there may still be substantial problems. Many ERP or CRM systems are simply too expensive for the average SME, particularly in cases where functionality far exceeds requirements. Why pay good money for something you have no use for?
Many a time, however, the problem is just the opposite: vital functionality is missing. Broad solutions are just not suited for a particular industry with specific requirements.
What is Microsoft Dynamics 365?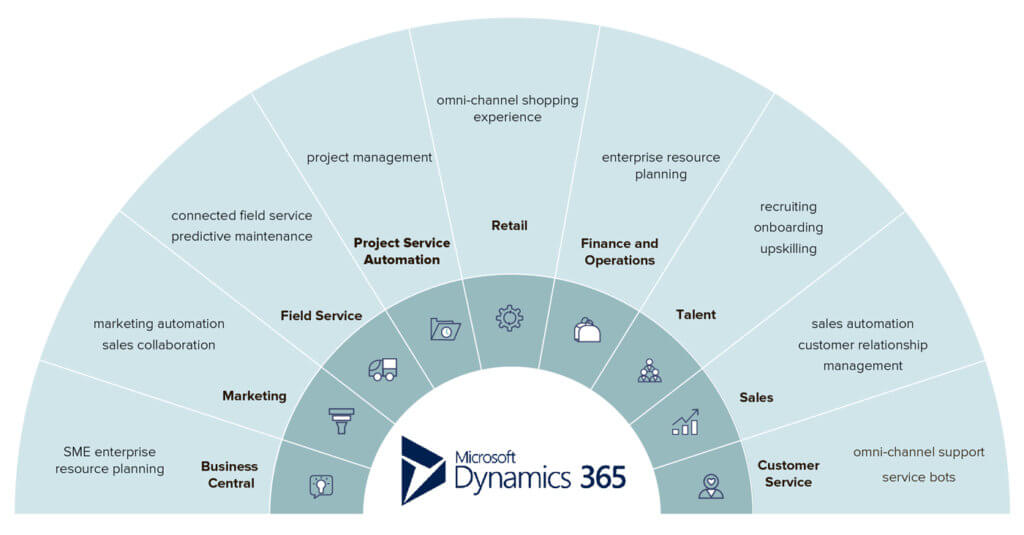 In the autumn of 2016, a software was launched that addresses many of these issues. Microsoft Dynamics 365 is a suite of nine intelligent cloud business apps that can be used on their own or in combination with each other. Each application focuses on a different aspect of business, such as sales, project management or HR. Thanks to a common data model, they integrate seamlessly and share information across modules, enabling departments to work more efficiently with each other. Dynamics 365 can also be integrated with other Microsoft products, most notably Office 365 and Power BI.
While the individual apps are very comprehensive, offering a lot of functionality, they are quite generic. This, however, should not put anyone off them. For it is part of the Dynamics 365 concept to extend the apps with third-party solutions that will fulfill certain local requirements or offer additional industry-specific functionality.
Benefits of Dynamics 365 for SMEs
Sounds like a great solution, right? But is it suitable for a business like yours? Here is why we think Microsoft Dynamics 365 is perfect for SMEs:
You only pay for what you really need
Only need a sales automation solution? Get Dynamics 365 for Sales. Want to better align sales and marketing? Get Dynamics 365 for Marketing on top. Generally, you can purchase every app separately. If you want to use them in combination with each other, it may be advisable (and more cost-efficient) to buy a so-called plan. For instance, the Customer Engagement Plan includes Dynamics 365 for Sales, Dynamics 365 for Customer Service, Dynamics 365 for Project Service Automation and Dynamics 365 for Field Service.
Your solution can grow with your business
Dynamics 365 allows you to start small and grow at your own pace. This means you can get started with one app and add others whenever you want. This way you don't have to invest a lot of money right from the get-go. And it helps you avoid one of the traps many smaller companies walk into when starting their digitization projects: doing too much at once.
You can adapt each app according to your needs
Given the breadth of functionality offered by Dynamics 365, it is difficult to imagine that a business might miss something. Yet of course each company has its own specific and sometimes unique demands. It may also be the case that certain local requirements are not met.

While the system can be customized, in some casees that may not be enough. This is where third-party apps come in. You can find thousands of them on AppSource, Microsoft's marketplace for business apps. proMX, for example, offers Project Management add-ons for Microsoft Dynamics 365 for Project Service Automation. These apps allow you to not only make duration-based time entries but bookings that feature a start and end time, a common requirement in many companies.
You will no longer have infrastructure costs
Another reason SMEs are hesitant when it comes to digitizing are the perceived enormous costs associated with, for example, implementing an ERP system.

Not only do these systems tend to be expensive, there are also significant infrastructure costs associated with them. Your own servers do not come cheap, costs include server and databank engine licenses as well as additional hardware.

With Microsoft Dynamics 365, on the other hand, you only buy licenses (the number of which can be adjusted flexibly on a monthly basis thanks to the SaaS principle). This eliminates a lot of the costs that occur when you run a system on-premises.
You can integrate it with Office 365 and other Microsoft products
Your organization probably uses Office 365. Being a Microsoft product, it non-surprisingly integrates perfectly with the Dynamics 365 suite. You can, for example, track your e-mails in Outlook, use Skype4Business to make calls simply by clicking a phone number in your Dynamics 365 records, or employ SharePoint to reduce storage space.

You will get a similar seamless experience for other Microsoft products, such as Power BI.
How much does Dynamics 365 cost?
The question you are probably now asking yourself is: Even if Dynamics 365 is perfect for SMEs, can my business really afford such a sophisticated software? So, let's talk numbers!
Purchased individually, each application is priced differently. Dynamics 365 Human Resources being the most affordable, starting at $40 per user per month.
The Customer Engagement Plan, which includes Sales, Customer Service, Project Service Automation, Field Service and Marketing, stands at $115. proMX, however, offers this bundle for only $59. Contact our sales team to learn more.
It's also important to know is that there are different types of users: full users and additional users. The latter can read data and complete basic tasks but generally have fewer capabilities. Accordingly, these licenses are more affordable.
Sounds confusing? Don't worry, our experts are happy to talk you through the details.
You can learn more about each Microsoft Dynamics 365 app on our product pages, where you can also request free demos.
---
FAQ
Is Microsoft Dynamics 365 suitable for small businesses?
Yes, Microsoft Dynamics 365 is suitable for small businesses, because you only pay for what you really need, the solution can grow with your business (if necessary), you can integrate it with Office 365 and other Microsoft products – and more.
What is the difference between Microsoft Dynamics 365 and Microsoft Dynamics 365 Business Central?
Microsoft Dynamics 365 Business Central is an app that is part of the Microsoft Dynamics 365 suite.
Is Microsoft Dynamics 365 included in Office 365?
No, Microsoft Dynamics 365 is not included in Office 365, and vice versa.
Is Microsoft Dynamics 365 an ERP?
No. Microsoft Dynamics 365 is a collection of business apps that cover CRM and ERP functionalities.