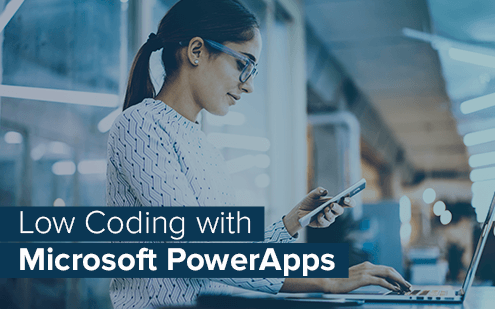 Low Coding: Build business apps with Microsoft Power Apps
Jul 30, 2019 | Last updated: Apr 19, 2023
In this digital age, the demand for web and mobile applications is as high as ever. Software developers are few and far between. Small and mid-sized businesses in particular are struggling to find personnel to develop software and mobile applications. To solve this problem long term, coding must be taught from an early age and more women need to be encouraged to get into software development. There is, however, a concept that can help deal with staff shortage in software development: Low Coding. More and more low coding platforms have been launched in recent years, including Microsoft Power Apps.
What is it? In Low Coding complicated programming languages are replaced by visual developing tools. In practice this means that applications are developed with the help of building blocks and drag & drop. Or as one German magazine put it, "software development meets Lego".
Low Coding: Quick and easy app development
It is estimated that low code applications are developed five times more quickly than traditional coding. This is because Citizen Developers, i.e. non-professional developers, know much better which requirements the software needs to meet than developers that know coding but not the subject area in question. They have to be briefed extensively and require feedback throughout the development process. Citizen Developers, on the other hand, from their daily work know exactly what the application must be able to do and how that can be best achieved.
Low coding can also be used to improve the productivity of professional developers and the workload of IT departments, for instance in developing prototypes. Low coding does not replace .NET applications, which are far more complex and can be more easily expanded. However, it is useful in preparing the required structures and views and to determine whether it makes sense to pursue an idea at all.
---
Benefits of Low Coding
no coding experience required
fast development
few human resources required
inexpensive
users develop applications/user-focused development
quick development of prototypes
higher and faster ROI
Office 365 integration (only Microsoft PowerApps)
---
Companies like Mendix and OutSystems specialize in low code platforms. Yet even huge corporations like Salesforce, Google and Microsoft have recognized low coding as a key technology for digital transformation and now offer their own such services and platforms.
Business application development with Microsoft Power Apps
In fact, Microsoft Power Apps, was named a leader in low coding platforms by Forrester Research. Introduced in 2016, Power Apps is already successfully being used by several well-known organizations to develop custom applications, among them airline Virgin Atlantic and the American Red Cross.
Virgin Atlantic used Microsoft Power Apps to develop, for example, an app that simplifies security and compliance audits for engineers, while the American Red Cross is in the midst of streamlining many of its antiquated processes with Power Apps. The latter's first success came when it developed an app that reduced the procurement time for training equipment from several weeks to just four to five days.
Both of these examples illustrate where Microsoft Power Apps shines: Optimizing internal processes that are bogged down by too much bureaucracy and red tape. The service allows businesses to custom-build business applications that can digitize such manual processes as vacation and shift planning, sick and expense reports or the procurement of spare parts.
Power Apps is particularly useful in two areas. As a connector between different data sources (chief among them Office 365, but also other Microsoft and third-party products) and in prototyping. Power Apps can also be used to customize and expand Office 365 and Dynamics 365.
Users can use one of the numerous templates or build an app from scratch. A perfect first project to familiarize oneself with the tool is to develop an app based on data from an Excel spreadsheet.
---
Example for Microsoft Power Apps uses
vacation planning
shift schedules
sick reports
expense claims
ordering processes
documentation
check lists
---
Developers may expand Power Apps with actual code, e.g. for reporting purposes, to integrate older applications or in case of specific user interface requirements.
Applications built with Microsoft Power Apps are not stand-alone apps. Instead they are made available to users via a so-called container app on their smartphones or tablets. End users have to download the official Microsoft Power Apps mobile app to access the applications shared with them.
Microsoft Power Apps in practice
proMX has developed several applications with the Microsoft Power Apps. We would like to show you two of them.
Time Tracking app
This smartphone app was conceived for time tracking in facility cleaning and is exceptionally easy to use.
At the start of the cleaning process, the cleaner opens the Power App on their smartphone and tabs the "Start"-Button to start tracking. Once they are done, they tab the "Stop" button. A new time entry is automatically created. After that the cleaner can record more details about the job: which customers they were working for, in which building or room, which task was carried out. They can also add notes and attach photographs (e.g. of items that were or were found damaged).
All time entries can be viewed in the app and are subsequently synchronized with Dynamics 365.
This app can be adapted for many different scenarios. Development with Power Apps took about two working days.
Lead Capture app
proBusinessCard, a smartphone app, was designed for use at trade fairs. It allows sales professionals to create a lead in Microsoft Dynamics 365 for Sales by taking a photo of the lead's business card. Artificial Intelligence recognizes each piece of the contact information and attributes it automatically to the correct field.
Buy Microsoft Power Apps and get started?
Although Power Apps doubtlessly simplifies building an app enormously in our experience users that have not previously worked in developing apps are at first confused about how to use the tool.
Power Apps does include a so-called Guided Tour that shows each step when using with a template. However, we recommend a training session with one of our experts.
We are also happy to build a Power Apps for Microsoft Dynamics 365 for you. Contact us and let us know your ideas!
---
FAQ
Does Microsoft have an app builder?
Microsoft's app builder is called Power Apps and part of Microsoft Power Platform that also includes Power BI, Power Automate and Power Virtual Agents. Microsoft Power Platform makes it possible for users with little to no coding experience to create user-friendly and accessible custom apps.
What kind of apps can you build with Power Apps?
Power Apps lets you build custom business applications quickly and easily, for example tracking apps, resource management apps, lead capture apps, and more. App types include canvas apps and model-driven apps.
Can you create desktop apps with Power Apps?
Power Apps is primarily designed for building web and mobile apps that run on various platforms. However, you can create desktop apps with Power Apps by embedding them in a web page and accessing the page from a desktop browser. Keep in mind though that the desktop app experience you can create with Power Apps is limited.