Introducing Dynamics 365: Why change management is so important
Feb 25, 2020 | Last updated: Feb 23, 2023
When we support customers in their digital transformation, they often ask us about effective change management for the introduction of Microsoft Dynamics 365 and its digital solutions for sales, project management or field service. As Mary Shelley said, "nothing […] is as painful to the human mind as a great and sudden change".
What is change management?
Change management describes the governing of change processes, and aims to ensure that new procedures are accepted by the persons affected by them. Matters of organization, personnel management, corporate management, and communication must be taken into account. The goal is to fundamentally change structures, processes and behavioral patterns.
The focus should always be on the personal aspects of change. Effective change management ensures that employees are accompanied at all times during the change process and the result of the change is established as the new status quo.
Why do companies need change management?
The need for change management arises whenever companies introduce new programs or events that affect work processes. Even if it is merely a new software tool that gets implemented, it may change some people's working days significantly. However, the acceptance of employees from the get-go is rarely given.
Change management also comes into play when the employees' roles change. If, for example, people with very proficient technical knowledge are asked to take on a managerial role, they may feel uneasey.
People generally tend to resist change at first. It is therefore important to anchor the goals of change in a sustainable manner so they will later be embraced in the company.
Advantages of change management for organizations:
Higher likelihood of employees accepting change
Clearly defined goals
Step-by-step introduction of new technologies and processes
More successful digital transformation projects
Tapping the full potential of innovative technologies
Quicker adaption to a changing economic environment
Integration of change in company culture
At first glance, change management may appear to be a difficult task. Yet it is an essential component of change processes. The Digital Transformation Index II commissioned by Dell Technologies shows that more and more managers are putting their employees center stage during digital transformation. Almost half of the companies surveyed are expanding digital skills internally and rely on cross-departmental knowledge transfer. If digital transformation or any change is to be managed successfully, people must be involved, goals clearly communicated, and possible resistance defused.
What happens without effective change management?
Without goal-oriented change management, transformation processes run the risk of failure. Lacking employee acceptance, changes and their benefits are difficult to implement. First and foremost, competitiveness is lost as a result. Nowadays, companies must keep up with digital progress. If they do not, their competitors will surge ahead.
In addition, without change management effectiveness of new work processes will suffer. Digital tools such as Microsoft Dynamics 365 help to fully exploit a company's potential and optimize processes. Yet if the implementation is not accompanied by effective change management, innovative technologies cannot succeed.
Since digital transformation processes are always associated with effort and the use of various resources, resistance on the part of employees can lead to the failure of entire projects and thus the waste of large sums of money. In the worst case the future of the whole company is at stake. With effective change management, resistance can be overcome and the transformation project salvaged.
Read more: Digital transformation with Microsoft Catalyst
Challenges
According to Kurt Lewin's phase model, there are two force fields in a company. On the one hand, there are the forces that want to maintain the status quo. These include desire for security, habit, fear of change and a lack of resources that can make change difficult.
On the other hand, force fields exist that virtually provoke changes. These include innovative technologies, new competitors or a changed economic environment. It is difficult for companies to remain competitive without adapting to these forces.
The challenge for successful change is to temporarily shift the balance to the side of the pressing forces. In doing so, businesses must always take into account that employees will likely have strong emotional responses. Especially in the initial phase of change, surprise, fear of the new situation and a lack of understanding can quickly lead to a dip in productivity since employees get the impression that their previous behaviour is not suitable in this new situation. It is therefore more sensible to reduce resistance than to strengthen the forces of change.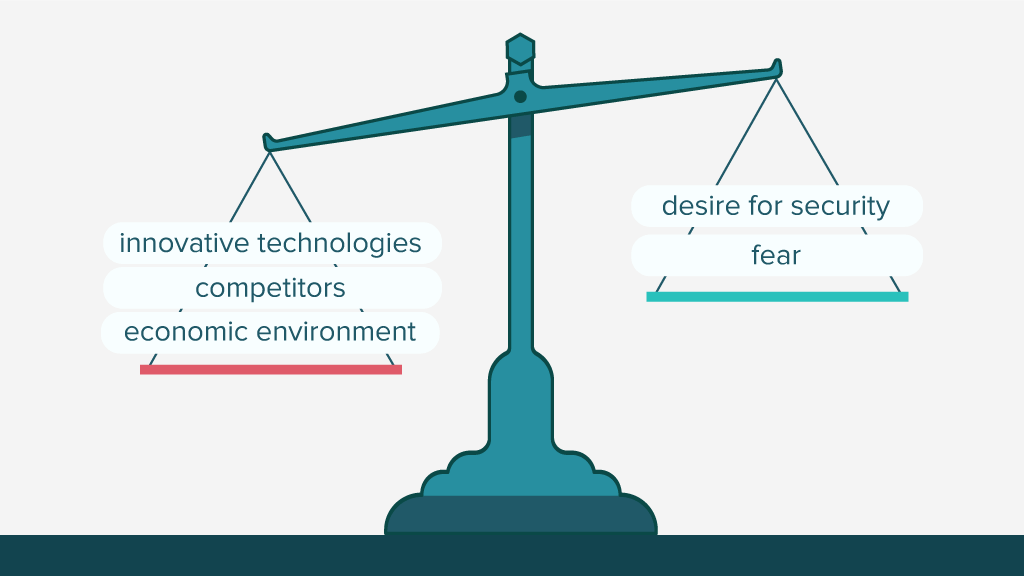 What concrete measures can companies take?
Due to the challenges mentioned above, it is particularly important to involve people from the very beginning. This is where top down and bottom up approaches start. They describe the flow of information at the start of the change process.
A change can be initiated top down by concrete instructions from management or bottom up by the lower hierarchical level.
When changes are initiated purely from "above", resistance often arises among those affected while management has excessive expectations. If the change management process is developed from "below" and passed on to "above", employees can see directly which restructuring measures are necessary in their own working environment. However, the potential is often not fully exploited and targets are often set too low.
If suggestions come from both management and employees, they can be discussed and decided upon interactively. In practice, it has proven to be best to take as much of a top down approach as necessary and as much bottom up as possible.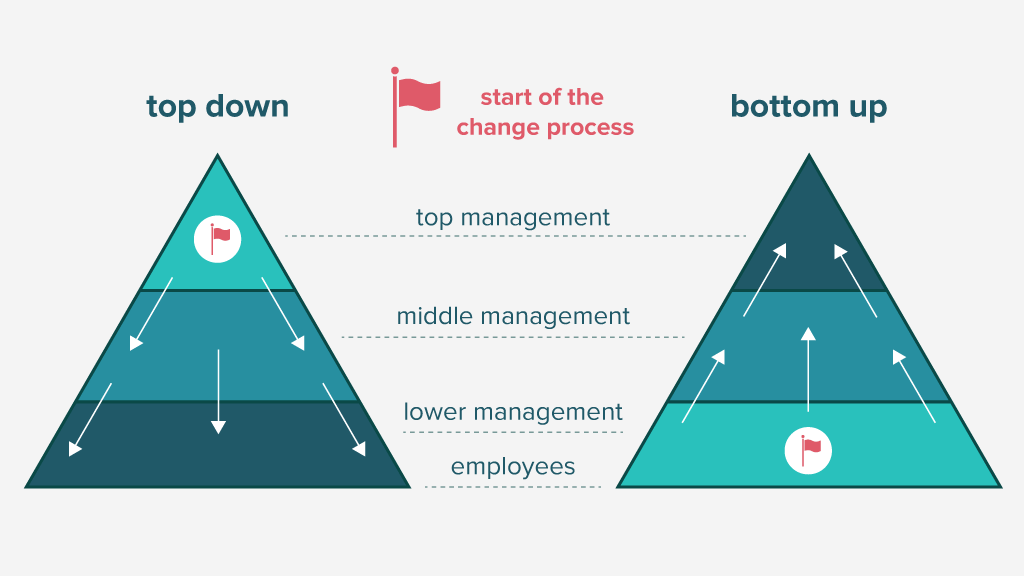 These mistakes should be avoided
Various studies have shown that most corporate reorganizations fail in the initial phase. Follow these recommendations to ensure that the change will not fail:
Mistake: Change without a clear concept
Advice: Detailed preparation
To avoid too much resistance to change, your employees should be adequately prepared. Therefore, analyze in advance which effects will occur and who will be particularly affected.
Mistake: Goals of the change process are not clearly communicated
Advice: Define goals
Increase acceptance among your employees by explaining the necessity for the change and its goals in concrete terms.
Mistake: Resistance is not used as a resource
Advice: Take enough time
Take enough time for the changeover process. With a detailed project plan and professional project management you are well prepared. Conversations help to reduce uncertainties and resistance among employees and learn more about their needs.
Mistake: No or insufficient resources available to implement change
Advice: Provide technical requirements
Provide the technical prerequisites for a modern workplace in time, so that the employees can get used to the new way of working right from the start. A digital environment simplifies communication and location-independent working.
Mistake: Change is not sufficiently integrated into the corporate culture
Advice: Targeted workshops
Involve all employees in the change process from the very beginning in order to learn together and from each other and to benefit from it. Targeted training programs promote cooperation across departments.
Success factors for change
As you can see, much can be achieved through effective change management. The following factors are essential for successful change:
Digital technologies and digitized processes
Where digital tools are already being used to develop new processes, there is openness to new technologies. This is the basis for future-oriented business models. Digital technologies should be used throughout the company for planning, implementation and analysis of results and working processes.
Agility
Agile companies think and act flexibly and are characterized by their ability to adapt quickly in order to integrate agile processes and structures dynamically and in line with requirements. New impulses can thus be evaluated, absorbed and implemented more quickly. This makes it possible to implement change efficiently.
Independent working conditions
In companies with autonomous working conditions, employees are given a lot of freedom to work independently. Flexible working models enable employees to decide on their own working hours and location using digital tools. This promotes employees' independence, initiative and self-management.
Collaboration
Companies with strong collaboration support the cross-functional exchange among their employees, with customers and other companies. Employees support each other, even across departments and hierarchies. Digital technologies such as Microsoft Teams are specifically used to facilitate and promote collaboration.
Innovation and training
A strong focus on innovation and learning enables the development of your employees and the company. An environment that promotes creativity encourages experimental ability. Previous habits and processes can be questioned more easily, so that you can adapt quickly to changing situations. Failure is not denounced but accepted as part of the development process and seen as an important learning process.
Do you have any questions on digitalization and change management? We have many successful Dynamics 365 implementation projects under our belt and can support you in your digital transformation process. Do not hesitate to contact us.
---
FAQ
What are the benefits of Microsoft Dynamics 365?
Microsoft Dynamics 365 unites CRM and ERP applications in one suite of business apps. Different tools support every department of a company with the functionalities it needs to work productively. At the same time, all departments and locations of an organization are connected and share a common database.
What security role allows you to change the account manager in Dynamics 365?
In Dynamics 365, you are able to change the account manager as as "Sales Manager" or "System Administrator." These security roles possess the necessary "Write" permission on the "Owner" field of the account entity by default. It is also possible to give other custom roles this permission.
Besides the right permission, you also need access to the account record you want to alter. If you do not have the appropriate privileges to access the account, you will not be able to change the account manager even if you have the necessary security role.
How to change an unmanaged client to a managed client in Dynamics 365?
Turning an unmanaged Dynamics 365 client into a managed instance requires several steps and can be complex and time-consuming. Therefore, we recommend you collaborate with a Microsoft Solutions Partner, like proMX, or a Microsoft consultant to make sure the migration is successful.