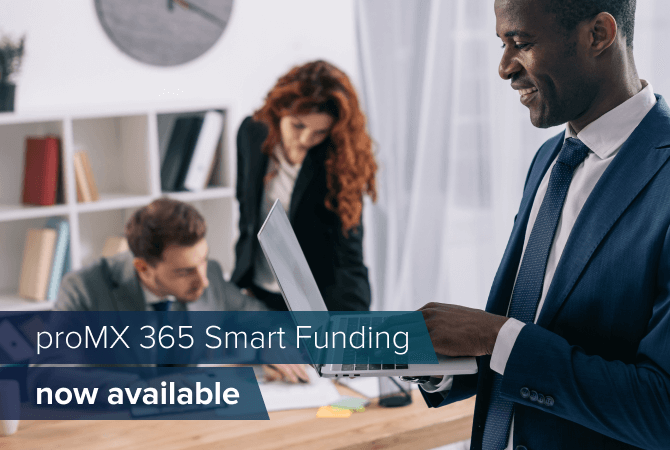 Clever funds management with proMX 365 Smart Funding
Jan 31, 2022 | Last updated: Sep 29, 2022
Company News
|

3

min read
Private or governmental funding is not just an interesting topic for founders and start-ups. Traditional organizations can receive money for investments, too, particularly – but not just – for digitalization measures, or initiatives to improve climate or environmental protection.
Even though the offer regarding different types of funding is broad, many companies don't dare to use third-party money to realize their projects. Often the reasons are the high administrative effort that the usage of funds entails and the risk of back payments due to bureaucratic mistakes or insufficient proof of the correct spending.
Manage all funds in one app
proMX heard about these hurdles and decided to provide some help.
"In close collaboration with our customer Agaplesion gAG who receives funds themselves we developed proMX 365 Smart Funding to facilitate the management of funds. Our solution enables administration of all funding budgets and its respective projects comfortably in one app."

Peter Linke, CEO at proMX
The solution can be set up according to the structure and the requirements of an organization and project categories defined individually. You can document the original funding sums as well as the amount and the usage of planned and actual costs quickly and easily in the appropriate category. It is evident at all times where the project stands currently, how much money was invested already in which measure and which amounts are budgeted for upcoming activities. You can intervene timely to change the course of action if it becomes necessary. That way, it can be made sure that neither too much nor too little money is spent and that it is used for the proper purpose.
"As a clinic network with various hospitals all over Germany, we make selective use of funds. proMX customized the solution perfectly to fit our organization structure. It supports us greatly to always apply all funds at the right location to the right initiative."

Sebastian Kühn (M. A.), Process Manager at Agaplesion gAG
Furthermore, proMX 365 Smart Funding is meant to store all project-related deliverables and documents, for example contracts or invoices, directly in the respective project folder. That way it is easy to proof the proper and agreed upon use of all funds in case evidence is required at the end of the funding period.
Stay on top of your budgets
Besides the two main functions – management and documentation of funds and the respective projects – proMX 365 Smart Funding comprises additional features that primarily support the handling of complex and parallelly running projects.
With integrated business analytics capabilities, correlations can be identified and visually represented via dashboards. This helps project managers to stay on top of even complex projects. Gantt charts help map project structures realistically and thus plan more precisely.
To get started as easily as possible, we offer an introductory learning path to the solution.
---
Learn more about proMX 365 Smart Funding on our product page and request a free demo there.