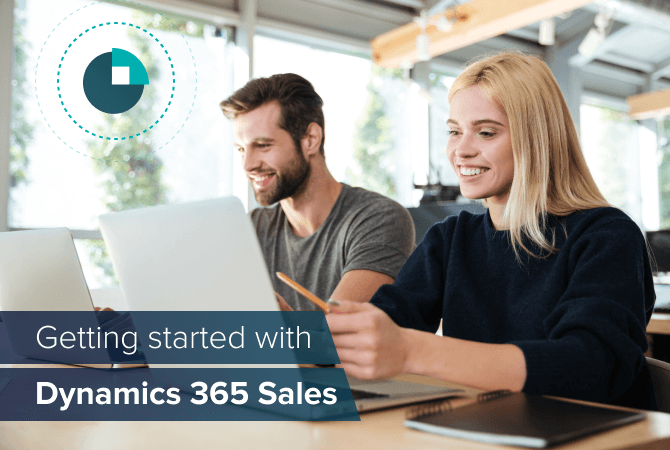 Three steps to getting started with Dynamics 365 Sales
Jun 1, 2023 | Last updated: Jun 2, 2023
Do you want to build solid relationships with potential customers, and generate profits in the end? Dynamics 365 Sales is a potent tool for achieving this goal. We will show you what Dynamics 365 Sales entails and how you and your sales team can get started with it in three easy quick-start steps.
Dynamics 365 Sales: an overview
Dynamics 365 Sales is part of Microsoft's suite of Dynamics 365 business applications and encompasses a significant portion of CRM (Customer Relationship Management) processes. Other CRM modules within the suite include Dynamics 365 Marketing, Dynamics 365 Customer Service, and Dynamics 365 Field Service. Additionally, there are applications like Dynamics 365 Business Central, Dynamics 365 Finance, and Dynamics 365 Project Operations, which cater to enterprise resource management (ERP).
Dynamics 365 Sales consolidates all the essential features that aid sales professionals in their work. With the assistance of AI-powered functions, it also provides reminders regarding which contacts are worth following up with and when.
The functions of Dynamics 365 can be classified into four key areas:
Transparency
Lead prioritization
Relationship management
Product recommendations
Customer intelligence
Relationship management
E-mails
Social Selling
Relationships
Document management
Contact management
Sales opportunity management
Mobile sales
Sales process management
Partner management
Sales performance
Onboarding
Setting and monitoring targets
Evaluations and reports
You'll find a particularly good overview of the functions of Dynamics 365 Sales in our comparison with salesforce.
The advantages of good sales software
The key to achieving sales success lies in efficient sales processes. If you manage these processes across various systems without a shared database and/or rely on manual processes, errors can easily occur, resulting in decreased productivity. Ultimately, these negative effects also impact (potential) customers. When choosing your sales software, ensure that it meets at least the following requirements:
increases the productivity and performance of your sales team
makes your sales processes smoother and faster
does not lose track of leads
can make predictions (e.g. about the expected sales potential)
improves the quality of your sales tasks
delivers consistent data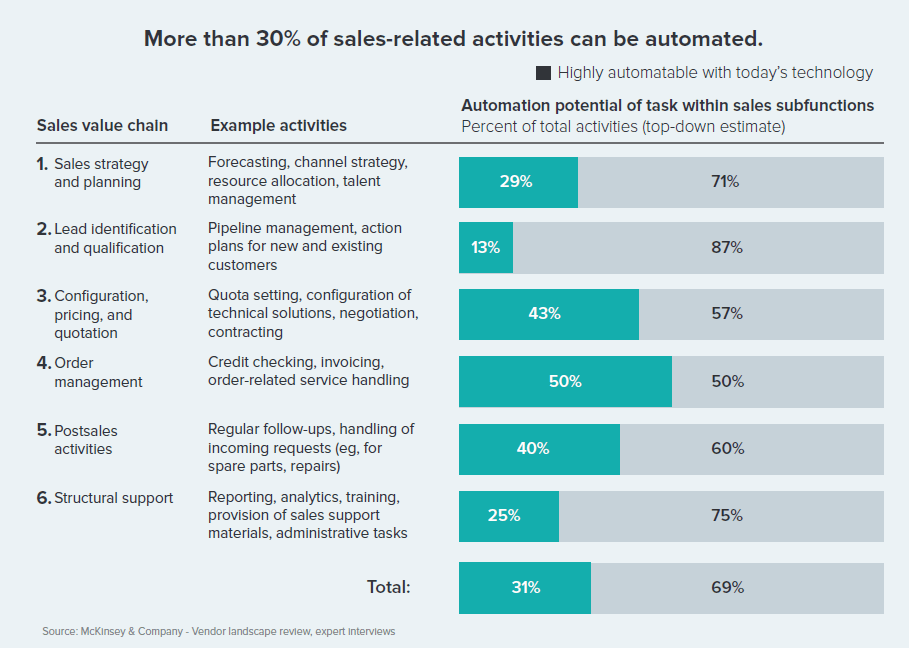 Quick start: checking your dashboard
A key function of Dynamics 365 Sales for sales teams is its customizable dashboards. Employees can begin their workday with a comprehensive overview, while project or field service managers can extract all the relevant information they need.
Right out of the box, Dynamics 365 dashboards offer a clear view of current goals and their status, upcoming tasks, and more.


Key elements of the dashboard include the sales pipeline depicted as a funnel chart, a news feed showcasing lead activities (allowing you to promptly address issues such as delayed deliveries in your subsequent conversations), an overview chart of leads organized by source, columns displaying important customers and sales opportunities, and, of course, your own daily tasks.
Tip: You can have recommended actions for leads automatically appear on your dashboard! This feature is called Lookup Wizard.
Microsoft Power BI for Dynamics 365 Sales
Dashboards are included by default in Dynamics 365 Sales and are ideal for obtaining a quick overview. However, at some point, they may reach their limitations. For instance, if you desire a more focused analysis of individual dashboard parameters, perform data comparisons, format dashboards, or utilize different data sources, Power BI is better suited for these tasks. Power BI is a business intelligence application that forms part of the Microsoft Power Platform. It enables you to gain a more detailed insight into various sales areas without sacrificing the overall perspective.


In our article here, we delve deeper into the limitations of Dynamics 365 dashboards and explore how you can overcome them with Power BI.
Quick start: create leads from inquiries
The work of salespeople typically begins with inquiries received through the company website or in their e-mail inbox. This is an excellent method for attracting potential customers! With Microsoft Outlook, you can seamlessly access data directly in your Dynamics 365 app with just a click and without needing to open a new window for the app. It's a convenient way to swiftly capture leads along with all the essential information, including the e-mail itself as an attachment.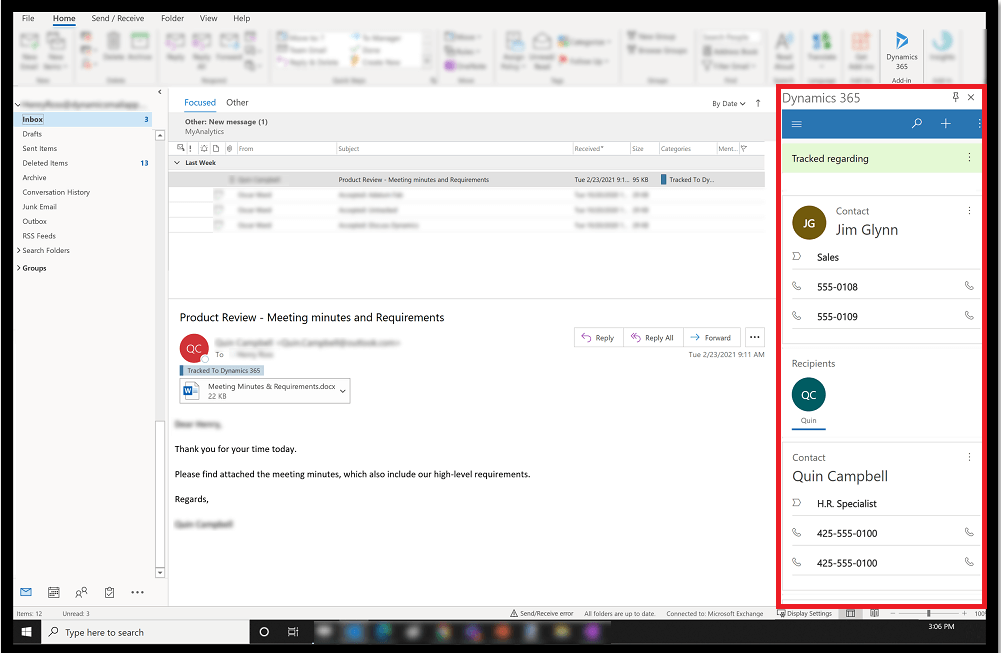 In Dynamics 365 Sales, you can then proceed with the qualification process and thoroughly view and edit the newly created lead. This includes details such as the contact's company, a comprehensive activity history visible to all sales colleagues, linked contacts, lead source, and more.
Tip: From Dynamics 365 Sales, you can directly send emails to contacts or create new tasks for your colleagues, such as finding and sending price information. One of the notable advantages of Microsoft products is their seamless integration with each other!
Quick start: configuring Dynamics 365 Sales
Do you frequently encounter fields or functions in Dynamics 365 Sales that don't appear or operate as you would like them to? If so, you can customize the application to suit your individual needs easily with the help of Power Apps. If you are already familiar with Power Apps, you might know that Dynamics 365 Sales is essentially a Power App. If not, well, now you are aware. Strictly speaking, Dynamics 365 apps are model-driven apps that are built upon a database. This grants you the ability to tailor your Sales module to your specific requirements, such as adding, removing, or renaming fields, columns, or forms, among other possibilities.
Tip: If you wish to explore Dynamics 365 Sales further, Microsoft provides various learning paths to assist you, including introductory courses. For more complex customizations or integrations with other tools used within your company, we recommend seeking support from a Microsoft partner.
Power Apps is a component of the Microsoft Power Platform and can also be utilized for developing Canvas apps. Microsoft's low-code platform encompasses Power Automate (for creating workflows), Power BI (for reporting and valuable data insights), and Power Virtual Agents (for building chatbots).
To learn more about unlocking the full potential of Dynamics 365 and how low-code concepts can benefit your business, make sure to read our article.
---
What value can Dynamics 365 Sales provide for you? Reach out to us, share your situation and objectives, and we will gladly offer you an obligation-free individual demo and consultation to address your needs!