Microsoft Planner for your business: features, pros, and cons
Do you still have to deal with the same problems as James – complex planning effort and inefficient distribution of tasks in your daily business? With Microsoft Planner these problems are history. Planner is an application for task management that makes it easy to organize teamwork within the company.
Read along to learn which functions the app includes and of its benefits and limitations.
Structure and functions of Microsoft Planner
What are plans? How do you create tasks? What are buckets? Here is everything you need to know to get started:
Create a plan in Microsoft Planner
When you create a plan, you automatically build a Microsoft 365 group. With the help of these groups (a service for all Microsoft 365 tools), you can select persons you want to work with when writing documents, creating spreadsheets, working on project plans, scheduling meetings, or sending emails.
In Microsoft Planner you can choose whether to create a new group or add your plan to an existing group. Public plans are visible to everyone in your organization. Private plans are only visible to people you have added to the plan.
Add tasks to a plan
Within your plan you can add tasks to list what needs to get done. Each task can be assigned a name to distinguish it from other tasks. Also, you can decide which details you want to include for each task.
---
Available details:
Set a preview picture for a task
Flag your tasks with labels
Set and update task progress
Add task start and due dates
Commentary function
Attach files, photos, or links
Add a checklist to a task
Assign responsible people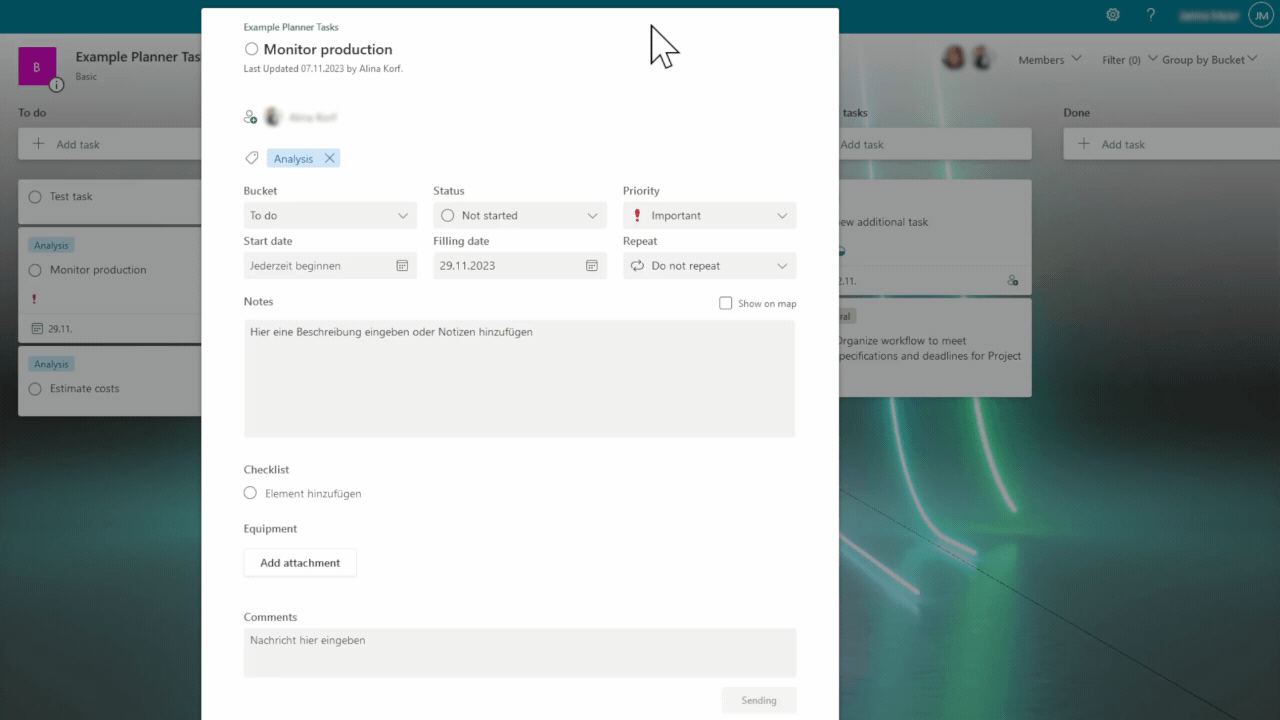 ---
---
Create buckets
The so-called buckets help sort your tasks. Create buckets to break things up into phases (e. g. "To-do", "In-progress", "Completed"), types of work, departments, or other categories.
To set up buckets for your plan's tasks, select Add new bucket on the corresponding board. Once you have created the required buckets, you can drag the tasks into the bucket.
---
View charts
The chart view shows how your work is progressing. In the general Status chart, you can see at a glance how many tasks are in progress, how many tasks are running late, and how many tasks have been completed.
The Bucket chart shows a bar chart of how many tasks are in each bucket, color-coded by their progress.
The Priority chart displays the status of your tasks sorted by priority.
---
Manage Planner tasks in Microsoft Teams
If you prefer to work solely within Microsoft Teams, there is the option to add one or more Planner tabs to a Teams channel. You can then work on your plan within Teams and get notified in Teams when a task is assigned to you in Planner.
Collaboration with Microsoft Planner
Microsoft Planner is designed to make teamwork as easy as possible. The joint work on a project and the resulting tasks can be conveniently organized and monitored transparently.
With Planner a team can
create to-do lists
organize and assign tasks
sort their tasks in clear listings
set due dates
share documents
discuss current activities in the chat
add comments and attachments
keep up to date with progress
be reminded of deadlines via customizable notifications
What sets Microsoft Planner apart
Microsoft Planner is included in every business version of Microsoft 365. This saves you from having to spend money on separate task management software if you already have a Microsoft 365 subscription. Additionally, Microsoft Planner can be seamlessly integrated with other Microsoft products. Word documents or Excel spreadsheets can be easily shared in Planner. Built-in collaboration comes via Microsoft Teams, so there is no need to connect to a third-party app.
Pros
The biggest benefit is its integration with other Microsoft products. Within the familiar environment, the boards are quickly ready for use without time-consuming training.
Microsoft Planner enables simple and intuitive task management for every team member – regardless of individual knowledge and roles in the company.
Cons
The solution is only available via a browser or mobile app – you cannot download a desktop version.
Planner is no stand-alone product and can only be purchased with a Microsoft 365 subscription.
Who is Microsoft Planner best for?
Microsoft Planner helps small and medium-sized companies in particular increase efficiency and significantly optimize teamwork. Planner makes perfect sense for companies that already use Microsoft 365. There are no additional costs for these organizations, and they can use the integrated communication via Teams, document creation via Word and Excel and the email function via Outlook.
Additionally, Microsoft Planner is ideal for companies in which agile project management has been established, as it is used as a digital Kanban board.
We will be happy to answer your questions in a personal call. Contact us!