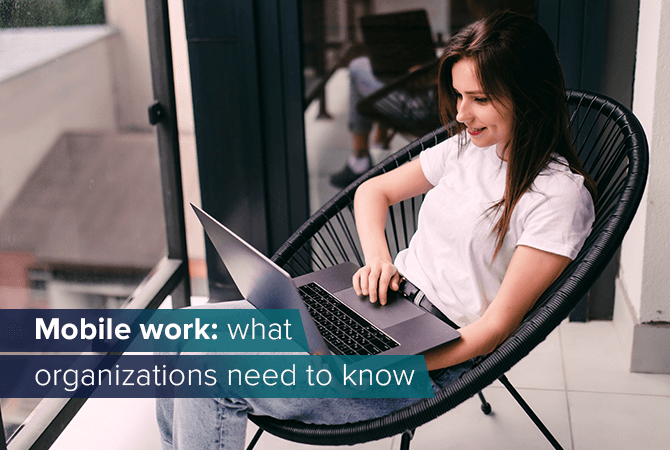 Mobile work: what organizations need to know
Jun 24, 2021 | Last updated: Jan 11, 2023
What will post-pandemic work look like? Will everyone return to the office? Will people continue to work from home? Three days in the office, two days from home? No longer a desk at the office, but making up for lost travel time instead?
These questions do not just make for a popular LinkedIn survey, but, above all, are important for employees and organizations alike. In addition to working from home, mobile work is an attractive option for younger generations in particular. Let us have a look at the meaning of mobile work, its advantages and disadvantages, and what it means for organizations.
What's the difference between the German "Homeoffice" and mobile work?
In Germany, "Homeoffice," "Home Office" and "Home-Office" are not actually covered by the law. Neither is mobile work. "Telework," however, is included in a law that regulates everything related to the physical workplace (Arbeitsstättenverordnung).
The German "Homeoffice"
"Homeoffice" is a colloquial umbrella term in Germany that describes working from home, whether it is because of a pandemic, a sick child, an appointment or because you simply prefer staying there.
German law dictates that employees need to be provided with all the necessary equipment to work from home: laptop, monitor, mouse, keyboard, perhaps even office equipment. The employment contract specifies what the company will pay for and how many hours employees are allowed to work from home.
Currently, a right to work from home remains an exception.
Mobile work
Mobile work enables people to work from anywhere, independent of their location. Employees do not sit in an office at the company or at home, but can potentially be anywhere: in a co-working space or on the beach, at a train station or on a train, in Europe or in Southeast Asia.
Currently, there is no legal framework for mobile work and thus neither any rules nor regulations for employers. However, logic and self-interest dictate that organizations provide equipment such as laptops and company cell phones to ensure productivity.
Of course, German laws regarding the protection of employees' rights and working times apply in all workplaces.
Advantages and disadvantages of mobile work
Modern, flexible and employee-centric: that is how organizations that offer mobile work position themselves. It allows them to expand their candidate pool and hire people who are not willing to relocate for their job. By offering mobile work (and offices at home), it requires no effort to expand their search for employees to the whole of Germany or even the entire EU.
For employees, a better work-life balance is at the center of mobile work, especially when mobile work is combined with flexible working hours. This impacts their motivation, performance, satisfaction and loyalty. The latter are particularly important for successful businesses.
Advantages of mobile work
More family- and career-friendly
Organizations become more attractive
Increase in motivation and performance
Greater employee satisfaction and loyalty
Larger pool of potential talents
However, weaker bonds within the team can be a disadvantage for employees and for an organization overall. Colleagues just don't get to know each other that well without the occasional chat at the coffee machine, a shared lunch or an after-work beer. There are ways to tackle this challenge, though.
But careful: The balance between work and life can quickly turn into an imbalance. Taking more breaks may lead to being less exhausted at the end of the day, as compared to a regular day at the office. However, it is easy to work through the entire day and forget to rest for longer periods of time without even noticing it.
What organizations need to know
So far, there is no legal right to mobile work. It is up to the organization to offer mobile work as an option or not.
A legal framework may be lacking. However, laws regarding labour protection and working hours still apply. And it is the organization's job to make sure to stick to these laws, for example by:
Creating checklists for workplace safety
Defining core hours
Strict time tracking
Checking the maximum working hours and breaks
Organizations should also create a framework for data protection. Make sure your employees will compulsively hit the Windows button + L every time they leave their laptop. Rules and regulations regarding data safety are recommended, too.
The gateway to mobile work: cloud computing
To make sure that mobile employees can work and collaborate with their team productively, reliable software is a must.
Also: Mobile work needs the cloud. Modern-workplace software ensures that everyone can work productively at any time, any place and on every device, and makes collaboration a success.
We recommend the following solutions:
Microsoft 365 lets employees collaborate on documents such as Word files, Excel spreadsheets or PowerPoint presentations.
Microsoft Teams offers teams a collaboration platform and useful tools that help them work together: group chats and individual chats, phone and video meetings, mentions and likes, emojis and memes. The app can also be used as a company-wide intranet or replace an internal newsletter.
Microsoft Dynamics 365 offers different apps for different tasks and areas, and is easily customizable.
It is up to organizations whether they want to offer mobile work or not. The technology exists either way.