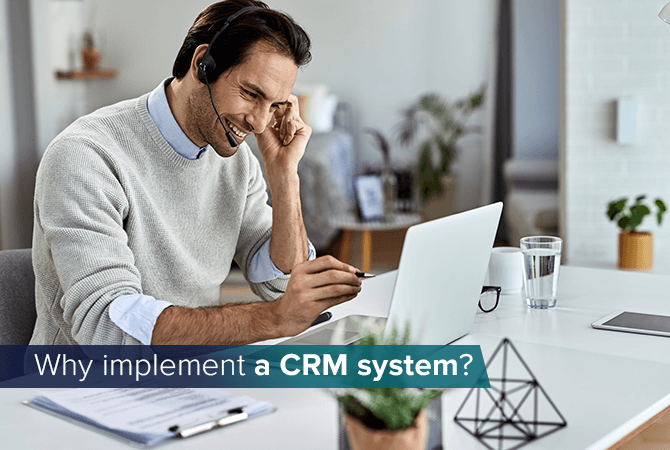 Why implement a CRM system?
Dec 15, 2022 | Last updated: Jan 16, 2023
If you have just founded a company, you probably won't be spending a lot of money on software right away. Microsoft 365 (formerly Office) is often sufficient in the beginning.
Once you reach a certain number of customers, however, it will become more difficult and messier to manage them all in manually curated Word documents or Excel tables. The risk is high that you will mix up or miss important information.
A Customer Relationship Management (CRM) system helps to improve relationships with customers and render processes more efficient. It straightens out all the issues that are common for sales, service and win back teams:
Providing consistent and coherent customer support
Recognizing promising leads
Taking care of leads
Scheduling follow-up activities properly
Providing central access to information for everybody
Making decisions based on data
Who benefits from a CRM?
CRM systems serve B2B as well as B2C organizations. To answer the question of who should make use of professional customer relationship software, the size and the industry of a company are less important. The decisive factor is the degree of interaction with the customers, no matter whether they are individuals or other companies.
Professional service companies (such as consulting firms, IT providers or construction companies) that generate revenue by selling services and maintaining close customer relations immediately come to mind. But in other industries – for example, in retail – it is also beneficial to know your customers well. That can be achieved with customer cards or accounts and helps to better target marketing activities, or to adapt or expand the product portfolio according to the customers' preferences.
Why and when a CRM system makes sense
Your decision to implement a CRM system shouldn't depend on the size of the sales or service department, but more on how they work. As soon as fixed processes are in place and several people are working together, it is worth migrating to professional software.
A CRM system is indispensable,
… when processes should be optimized.
… when the customer should no longer receive offers that are irrelevant to them.
… when a service agent shouldn't have to ask if a certain error has occurred before.
… when the sales manager should be able to make suitable up- or cross-selling offers.
It saves all customer data at a central location for all stakeholders to access and work with whenever they need it. All kinds of interactions with the customer – whether via telephone, e-mail, newsletter, website or face-to-face – and all kinds of information (former purchases, service requests, responsible contact persons) can be added there, reviewed, and taken up for future conversations.
This allows you to build up a 360°-view of the customer and a complete history of that person's relationship with the company. Consequently, transparency rises, data silos are dismantled and the main tasks of sales, and other departments that are in contact with customers, are optimized tremendously. Modern cloud-based CRM systems also enable you to work from anywhere and on any device.
How to find the right CRM system
Honestly, there is no sales team that can't benefit from a CRM – as long as it chooses the right software for its requirements. Not every system suits every company. Even though most solutions offer more or less the same functionality (from lead management to data evaluation), it is the details that make all the difference.
To find the right software, decision-makers should:
Precisely define the company's requirements
Pay attention to functionalities and scope of the CRM
Place importance on intuitive handling and sufficient learning materials
Consider the company's size as well as expected growth
Make sure the new solution is compatible with the existing IT infrastructure
Investigate the software's possibilities to be extended and adapted
However, the software itself is not the only thing that matters; it is equally important that it is implemented successfully. The more complex the solution, the more important it is to have a competent and experienced digitalization partner by your side.
Microsoft's CRM: Dynamics 365
Strictly speaking, Microsoft Dynamics 365 is not one CRM solution, but a suite of business applications for different areas of an organization like sales, marketing or project management. Every solution can either be used on its own or combined with any number of other Dynamics 365 apps. A common database guarantees that every employee is working with the same data, regardless of the application.
Dynamics 365 Sales
If you are looking for a customer relationship management for your sales team, Dynamics 365 Sales is your best bet. Sales can do all that a "standard" CRM system can do – and more. In addition to mere customer relationship management, it is a comprehensive solution for sales automation.
Capabilities of Dynamics 365 Sales
As you would expect from sales software, leads and opportunities can be managed in there clearly and transparently, and consequently the most promising sales opportunities can be identified quickly.
E-mail engagement tells you if a message has been opened or the inserted link clicked, among other things. This information is used to create a history of interaction for each contact and to conclude Key Performance Indicators (KPIs) from that.
When it comes to communication with (potential) customers, an embedded artificial intelligence (AI) reminds you, for instance, to respond to emails promptly. Furthermore, the AI can recognize trends early and make predictions, for instance about the expected revenue.
Further reading: Microsoft Dynamics 365 Sales FAQ: 8 questions answered
Advantages of Dynamics 365 Sales
Microsoft Dynamics 365 Sales has many advantages that make it attractive for companies of different industries and sizes:
As part of Dynamics 365 it is scalable (e.g. in combination with Dynamics 365 Marketing)
It can be integrated seamlessly with other Microsoft programs and services
Organizations only pay for what they need
It is adaptable to country- or industry-specific requirements through third-party applications (e.g. proMX add-ons)
It can be expanded and complemented without any coding knowledge thanks to Power Platform
Conclusion
Software for customer relationship management helps companies to win and keep customers. It contributes to effective sales management (or management of other customer-centered activities) and makes it easier to focus on the customer in daily business. Every company with established processes benefits from these advantages.